The Plaça d'Espanya is a busy square located at the foot of the Montjuïc Hill. The traffic heavy square is bordered by interesting sights such as the Arenas and the Joan Miró Park.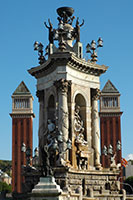 The Central Fountain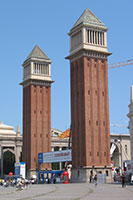 Venetian Towers
For centuries the site was used for public hangings until the gallows were moved to the Ciutadella in 1715. The current square was created for the 1929 World Exhibition. It was designed in 1925 by the architect Josep Amargós, and was only completed four years later, just in time for the exhibition.
Fountain
Another architect, Josep Maria Jujol designed a large fountain at the center of the square. His modernist style is clearly influenced by Gaudí, with whom Jujol frequently collaborated on projects like the Casa Milà and Parc Güell. The sculptures adorning the fountain were created by the Spanish sculptor Miguel Blay Fabregas.
Venetian Towers
Arenas de Barcelona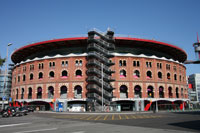 Arenas de Barcelona
At the other end of the Plaça d'Espanya stands the 'Arenas de Barcelona'. The bullring in Neo-Mudéjar style brickwork was built in 1900. But bullfights have never really caught on in Catalonia, and the arena has now been turned into a modern domed shopping center. Its roof is accessible to the public and offers great 360 degree views over the city.
Parc de Joan Miró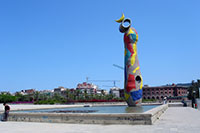 Parc de Joan Miró
The area behind the arena was originally known as the Parc de l'Escorxador (Park of the Abattoir) as it was the location for the bullring's abattoir.
In the 1980s the park was renamed Parc de Joan Miró for the local artist who left his mark on the square with a colorful, 22 meter-tall sculpture, known as 'Dona i Ocell' (Woman and Bird).