Casa Milà, commonly known as La Pedrera is the largest civil building designed by Antoni Gaudí. The apartment block was constructed between 1906 and 1910. It was Gaudí's last work before devoting himself to the construction of the Sagrada Família.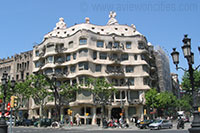 Casa Milà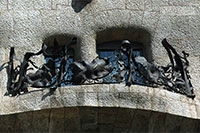 Balcony
Pedro Milà i Camps, a rich businessman, was impressed by the Casa Batlló, an expressionist building designed by Gaudí. He commissioned Gaudí to construct an apartment building on a corner site at the Passeig de Gràcia, a wide boulevard in the new Eixample district.
Unconventional
Gaudí created a less colorful but nonetheless even more unconventional building than the Casa Batlló. It breaks with traditional architecture by using not a single straight line. The building does not use load-bearing walls, but rest on pillars and arches. Together with the use of steel, this allowed the architect to create completely irregular floor plans. Even the height of the pillars and ceilings differ from one to another. In order to allow light in all the rooms, the apartments are arranged around two central courtyards, one circular and the other oval-shaped.
La Pedrera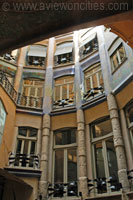 Courtyard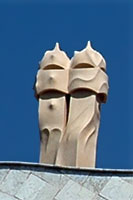 Casa Milà Chimneys
On the outside, the undulating balconies look like a series of waves. The iron-wrought balconies were designed by Josep Maria Jujol, who improvised on the spot. Some people see the facade as a cliff-like rock with caves. During construction, people dubbed it a quarry, or "Pedrera". To date, people still call the building "La Pedrera" rather than "Casa Milà".
Interior
The top floor, attic and the extraordinary roof are open to visitors. The apartment on the top floor gives an idea of how the interior must have looked at the beginning of the twentieth century. Just like on the outside, the interior has virtually no straight lines. The attractive rooms have a lot of character, with a mixture of expressionist and Art Nouveau styles.
The attic houses an exposition of Gaudí's works, with photos and scale models of his buildings.
Roof Terrace
The roof is probably the most intriguing part of the building. It features a number of surrealistic, colorful chimneys. Many of them look like warriors in a science fiction movie, others look more frivolous. The roof also features a bench similar to the one in Parc Güell. From the top of Casa Milà, you have a nice view over the Eixample district.