The colorful Casa Batlló, a remodeled nineteenth century building, is one of Gaudí's many masterpieces in Barcelona. Its unique interior is just as extraordinary as its fairytale-like exterior.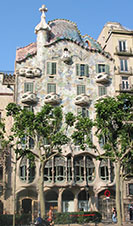 Casa Batlló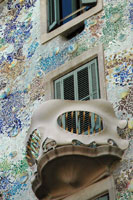 Balcony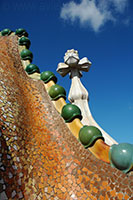 Detail of the roof
Between 1898 and 1906, three adjacent houses in one block on the fashionable boulevard 'Passeig de Gràcia' were built by some of the most important modernist architects: Casa Amatller (designed by Puig i Cadafalch), Casa Lléo Morera (designed by Domènech i Montaner) and Gaudí's Casa Batlló.
Apple of Discord
All three houses were designed in a different interpretation of the modernist style in what seems like a competition between the architects. This led to the local term 'Mançana de la Discordia', which means apple of discord, referring to Greek mythology where an apple, given by the goddess Eris 'to the fairest' lead to a dispute between three goddesses, eventually leading to the Trojan War. Conveniently, the word mançana also means 'block', so the expression 'Mançana de la Discordia' can also be translated as 'Block of Discord'.
The Building
Of the three houses, Casa Batlló is the most expressive. The house was originally built between 1875 and 1877. In 1900, it was bought by the rich industrialist Josep Battló i Casanovas, who commissioned Gaudí to tear down the old house and reconstruct a new one. Gaudí however convinced Battló to remodel the existing building. Between 1904 and 1906, Gaudí redesigned the facade and roof, added an extra floor and completely remodeled the interior.
Facade
The facade of the Casa Batlló is made of sandstone covered with colorful trencadis (a Catalan type of mosaic). Typical of Gaudí, straight lines are avoided whenever possible. The first floor features irregularly sculpted oval windows. Balconies on the lower floors have bone-like pillars, those on the upper floors look like pieces of skulls. These features gave the house the nickname 'House of Bones'. The enlarged windows on the first floor gave it another nickname, 'House of Yawns'.
Scaled Roof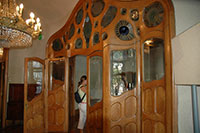 Wooden modernist door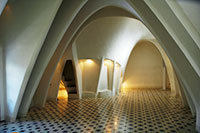 The attic
The colorful scaled roof recalls a reptile skin. According to some authorities on Gaudí architecture, the roof represents a dragon; the small turret with a cross would symbolize the sword of St. George stuck into the dragon. The bones and skulls on the facade represent all the dragon's victims.
Interior
The house's interior is as fascinating as its exterior. Again, Gaudí avoids straight lines at all cost. Like in his next (and last) commissioned private building, the Casa Milà, he paid great attention to detail when designing the wooden doors, stained-glass windows, colorful tiles and carved out fireplace.