The Arc de Triomf is a triumphal arch built with colorful brickwork in Mudéjar style. The arch, designed by the Modernista architect Josep Vilaseca, is adorned with a large number of statues and reliefs.
Exposition Entrance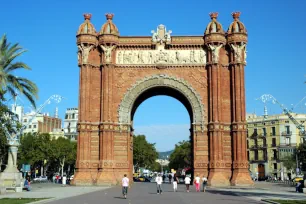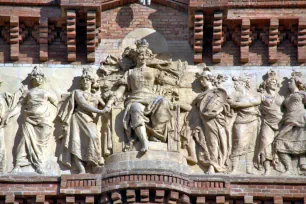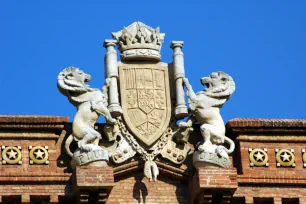 This beautiful arch was built on the occasion of the Exposición Universal de Barcelona – the universal exposition of 1888, which took place at the Parc de la Ciutadella. The triumphal arch was situated at the end of a wide promenade and served as the exposition's main entrance.
Mudéjar Design
The design of the arch – by the Catalan architect and artist Josep Vilaseca i Casanovas – stands out from other well-known arches – in particular the Arc de Triomphe in Paris – by its colorful brickwork in Mudéjar style, a style which has its origins in Moorish architecture.
The Arch
The arch measures thirty meters tall and is abundantly decorated on all sides with stone carvings and ceramic tiles. The front frieze by Josep Reynés shows the city of Barcelona welcoming visitors. The other side, designed by Josep Llimona, shows a prize-giving ceremony. The frieze on the right, created by Antoni Vilanova, symbolizes industry, trade and agriculture while the frieze on the left, created by Torcuato Tasso, symbolizes trade and the arts.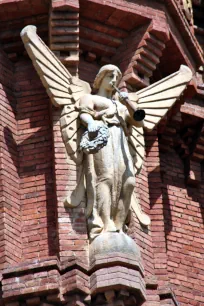 The arch is embellished with a stone carving of the Spanish coat of arms. Two roaring lions flank the coat of arms, which is topped with a crown. Below, following the contour of the arch, are the emblems of all provinces. The central one on the keystone, representing Barcelona, is slightly larger than the others. The arch is also adorned with twelve allegorical statues of women, symbolizing fame.
Location
The Arc de Triomf is located at the Passeig Lluis Companys and can be easily reached via the metro stop 'Arc de Triomf'. It is also just a short walk from the Parc de la Ciutadella.