The Arenas de Barcelona is a former bullring turned commercial complex near the Plaça d'Espanya. From the publicly accessible rooftop, visitors have amazing views over the city.
Bullring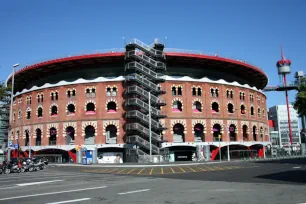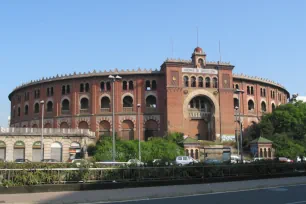 The Arenas (Arenes in Catalan) was built between 1889 and 1900 as the Plaça de Toros de les Arenes, the bullring of Barcelona. It was designed by the Catalan architect August Font i Carreras in a Moorish style, with a monumental horseshoe shaped entrance decorated with colorful tiles.
The arena, which has a diameter of fifty-two meters (171 ft), could seat up to sixteen thousand spectators. Besides bullfights, the arena also played host to a number of concerts; the Beatles even performed here in 1966.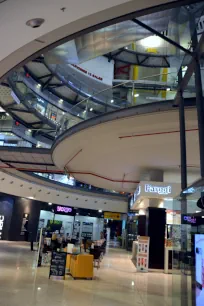 Conversion
Bullfighting never really caught on in Catalonia and the last bullfight took place here on June 9, 1977, leaving the Plaza de Toros Monumental as the only bullfighting arena in Barcelona. But even that arena closed in early 2012 when a bullfighting ban went into effect in Catalonia.
For decades, the arenas de Barcelona stood empty, and it took until 1999 before plans were launched to turn the arena into a modern shopping and entertainment center. The architectural firm of Richard Rogers was selected to design a state-of-the-art complex, while conserving the historic red brick structure.
The Arenas today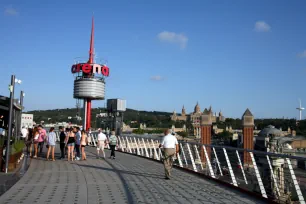 The new Arenas de Barcelona opened in March 2011. The original facade is mostly intact and encircles a modern domed complex with eateries, shops, movie theaters and a Rock Museum, all spread over six floors.
The rooftop terrace, which is accessible either via a series of escalators or via an elevator attached to the exterior of the building, offers great 360 degree views over the surrounding area. The views over Plaça d'Espanya and towards the Palau Nacional are especially impressive.