The Palau Nacional (National Palace) is an imposing building that was erected on the occasion of the 1929 International Exhibition, which was held on the flank of a hill called Montjuïc. The sprawling structure now houses the National Art Museum of Catalonia.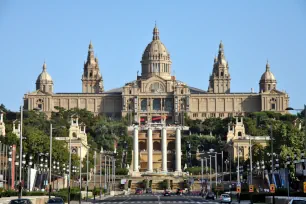 The esplanade at the National Palace offers some of the city's best views. The museum is surrounded by a number of other attractions such as the Mies van der Rohe Pavilion, the Magic Fountain and a handful of other museums including the Fundació Joan Miró, where you can see works of art created by the native Surrealist artist Joan Miró.
The Palace
The National Palace was the flagship of the 1929 Exhibition, drawing lots of attention from the crowds that descended upon the Catalan region for the event. It was originally designed by the Catalan architect Josep Puig i Cadalfach, but dictator Primo de Rivera intervened and took the modernist architect off the project. A new design was created by architects Enric Català and Pedro Cendoya in a more 'nationalist' style.
The result is a pompous Neo-Baroque building with a central dome surrounded by a number of towers. The magnificent Oval Hall was renovated in 1992 and opened in time for the Summer Olympics, held in Barcelona that year. The rest of the building was renovated at the beginning of the twenty-first century by architects Gae Aulenti and Josep Benedito.
The Museum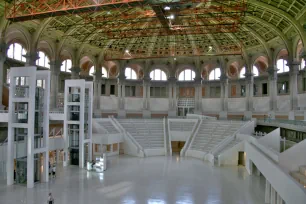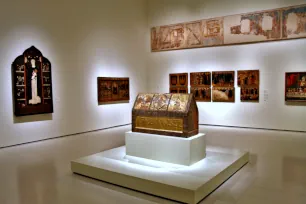 The Museu Nacional d'Art de Catalunya or MNAC in short is the largest museum in Catalonia. It is also the most important center for Romanesque Art in the world, though visitors will find exciting pieces from the nineteenth and twentieth centuries and the Gothic, Renaissance and Baroque periods as well.
Some of the most important works of art in the museum are a number of frescoes from the twelfth and thirteenth centuries. Many of these were taken from old churches in the Pyrenees and reassembled at the museum.
Later works on display at the Palau Nacional include pieces by artists like Goya, El Greco, and Peter Paul Rubens.
Guests are also treated to some stunning decorative art from the nineteenth and twentieth centuries, including furniture and chandeliers, many indicative of Barcelona's favored Modernistá movement, known in other locales as Art Nouveau.