The Font Màgica or Magic fountain is a large and spectacularly colorful fountain that was built in 1929. When the fountain is active, it constantly changes color and shape.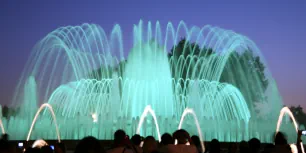 The fountain was part of a project built for the 1929 Universal Exhibition. The exhibition took place on Montjuïc, a hill just southwest of Barcelona's city center.
Cascades and Fountains
The project, designed by the Catalan engineer Carles Buïgas i Sans consisted of a series of cascades and fountains between the Palau Nacional (National Palace) – the main exhibition center on the Montjuïc – and the Plaça d'Espanya at the foot of the hill.
The project took one year to complete. The most spectacular part was the monumental Magic Fountain. It was originally intended to show people what could be achieved with filtered electrical light.
Restoration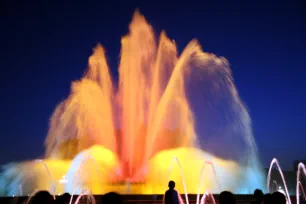 After many years of disuse, the fountain was in a bad state, but it was restored for the 1992 Olympic Games, which were held on the same hill.
Light Show
During the summertime on selected evenings, when the fountain is activated, it attracts hundreds of visitors who watch the spectacular display of light, water and music.At the same time, the Palau Nacional is illuminated, providing a beautiful background. The show runs for about thirty minutes. The start and end date depend on the time of the year, but the best time to see the fountain is during sunset.