Heldenplatz (Heroes' Square) was designed in the nineteenth century by Gottfried Semper as the central square of the Kaiserforum, a project which was never fully realized due to the collapse of the Habsburg Empire in 1918.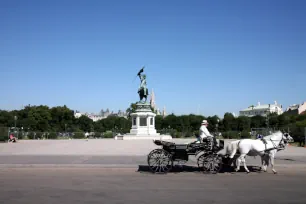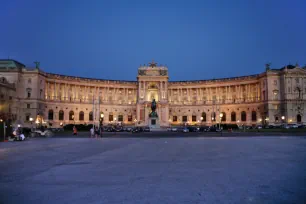 Kaiserforum
Heldenplatz was part of a grandiose plan for a new extension of the Imperial Palace of the Habsburg Monarchy, known as the Kaiserforum. The plan was drafted when a large bastion, which was part of the city's fortifications, was demolished to make way for the Ringstraße, the grand boulevard around Vienna.
Designed by German architect Gottfried Semper – best known for the Semper Opera House in Dresden – the plan for the Kaiserforum consisted of two arched wings connected to the two museums across the Ringstraße (the Kunsthistorisches Museum and the Naturhistorisches Museum) by triumphal arches. Heldenplatz was to be defined by two curving wings, which were part of the so-called Neue Burg (new castle).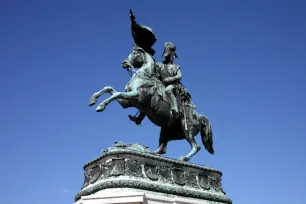 Of this grand scheme, only the south wing of the Neue Burg was completed before the Habsburgs' reign came to an end.
Heroes' Monuments
The square is named for two Austrian war heroes: Prince Eugène of Savoy, the victor over the Turks in the seventeenth century, and Archduke Charles, Duke of Teschen, who defeated Napoleon in 1809 in Aspern, near Vienna.
They are honored each with a monumental equestrian statue. Local sculptor Anton Dominik Fernkorn created both statues between 1860 and 1865. The most interesting from a technical point of view is the statue of Charles, which balances on the horse's two hind legs. The statue of prince Eugène in front of the Neue Burg needed the support of the horse's tail.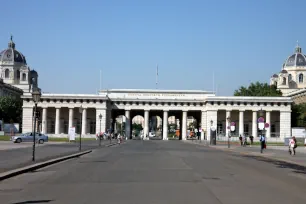 Burgtor
In the direction of the Ringstraße, Heldenplatz is framed by a wide triumphal arch, known as the Äußere Burgtor or Heldentor. The arch was designed by Peter von Nobile, and erected between 1821 and 1824.
The arch commemorates the Battle of Leipzig in 1813 where Austria and its allies defeated the outnumbered troops of Napoleon. The arch was originally built into the city's defensive walls and now stands a bit lost in the expansive square.
Anschluss
Heldenplatz is notorious for its place in history as the site where Hitler announced the Anschluss – the annexation of Austria by the German Third Reich – from the Neue Burg, where he was greeted by a large and enthusiastic crowd.