Vienna's City Hall was built at the end of the nineteenth century as the Neues Rathaus (New Town Hall) and replaced the Altes Rathaus in the inner city. The square in front of the city hall is the site of several yearly events, the most famous of which is the Christmas market.
The Rathaus Building
The Rathaus is the seat of the City Council of Vienna. It was the most expensive of all the monumental buildings that were erected at the end of the nineteenth century along the newly created Ringstraße. The Rathaus was built between 1872 and 1883 after a neo-Gothic design by Friedrich von Schmidt. Von Schmidt had earlier worked on the construction of the Cologne Cathedral and also helped to restore the Basilica of Sant'Ambrogio, so it is no coincidence that the building's one hundred meter tall tower resembles a cathedral bell tower.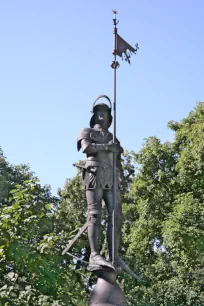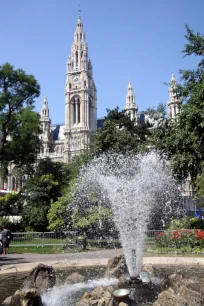 The tower is topped by a 3.5-meter-tall (11 ft) statue of an armored knight holding a lance. The statue, designed by Franz Gastell and created by master smith Alexander Nehr, is known as the Rathausmann. A replica of the statue stands at the Rathausplatz near the main tower. The Rathaus is adorned on all sides with more statues, mostly depicting Habsburg notables. A beautiful loggia on the east side of the Rathaus brings visitors to the interior, where they'll find majestic stairs which lead to the Festsaal, an enormous banquet hall.
Rathausplatz
The square in front of the Rathaus is the Rathausplatz. Towards the Burgtheater the square is flanked by eight statues of Viennese personalities, created in 1867. Many of Vienna's yearly events take place here: the Wiener Festwochen in spring, the Music and Filmfestival during the summer and the most famous of all, the Christkindlmarkt (Christmas Market), in the winter.
During those events, Rathausplatz is crammed with stalls selling food and drinks, and – in case of the Christkindlmarkt – Christmas decorations and presents.
Rathauspark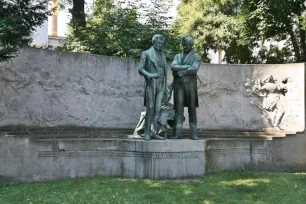 Rathauspark, a small park between the Rathaus and the Ringstraße, is adorned with fountains and several statues, including one honoring the first president of Austria's second Republic, Karl Renner, created in 1967 by Alfred Hrdlicka. The most notable is the Strauss-Lannermonument, created in 1905 by Franz Seifert. It shows Josef Lanner, the "father of the Waltz" next to his friend Johann Strauss the Elder, whose family made the Viennese Waltz world-famous.