The Freyung Passage is an elegant shopping arcade built in the nineteenth century as part of the Ferstel Palace. The arcade links the Herrengasse with Freyung, a triangular historic square.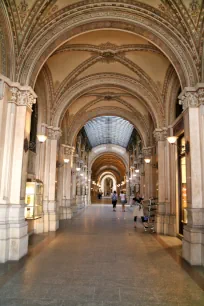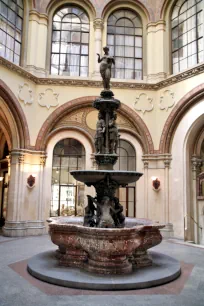 The Passage
The Freyung Passage, also sometimes referred to as the Ferstel Passage, is an upscale arcade built by the Austrian architect Heinrich von Ferstel in 1860. The marble-clad passage with pilasters and vaulted ceiling is lined with luxury stores.
The passage leads past a small inner courtyard covered by a hexagonal glass dome. A six-meter-tall (20 ft.) fountain, also designed by Heinrich von Ferstel, occupies the center of the courtyard. At the top of the fountain is a statue of the «Donaunixen» (Danube water nymph), who holds a fish in her hand.
At the end of the 1970s the arcade was in decline and shops started to leave. After a thorough renovation during the following decade, the shopping arcade came back to life, and it is now an elegant sight.
Palais Ferstel
Palais Ferstel (Ferstel Palace) was built in 1856 – 1860 for the Austro-Hungarian National Bank. Unlike most buildings at the time, it was named after the architect, Heinrich von Ferstel, and not after the owner of the building. Von Ferstel, who also designed the Votivkirche, was just twenty-seven years old when he designed this palatial office building. Despite its Italianesque style, it fits well into the urban fabric and the building looks much older than it actually is.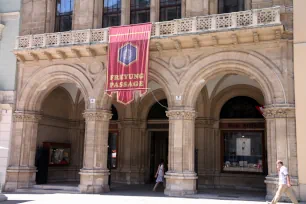 Palais Ferstel was not only home to the National Bank, but it also housed the Vienna Stock Exchange until 1877 when the stock exchange moved to its new premises at the Ringstraße.
Café Central
The palace is now best known for the Freyung Passage that passes through the building and for being home to Vienna's most famous kaffeehaus (coffee house), Café Central. In the nineteenth century, this was the favorite meeting place of members of the literary Jung-Wien movement. Many notable socialists, including Trotsky, were also regulars here. The magnificent interior of the café was restored in 1986, and is now very popular with tourists.