Freyung, a small square in the historic center of Vienna, derives its name from the Schottenstift monastery where fugitives were immune from the jurisdiction of the Habsburg rulers.
Opposite the Schottenkirche – the monastery's church – the square is bordered by several palaces. At its center stands the Austriabrunnen, a nineteenth-century fountain.
A haven for fugitives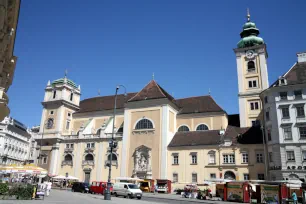 In 1155 Irish monks founded the Schottenstift (Scottish Monastery) at the request of duke Henry II Jasomirgott. It was an important stop for many Crusaders on the route to the Holy Land. At the time Ireland was known as 'Scotia Maior' hence the name of the monastery and the name of the neighborhood, the Schottenviertel.
The Benedictine monks also had a hand in the name of the square. It was first known as 'Bei den Schotten' (at the Scots) and its current name stems from the old German word Frey, meaning free. Jasomirgott had given the monastery the right to grant asylum and people who were on the lam were safe here, hence the name. At the end of the 18th century, empress Maria Theresia revoked these rights.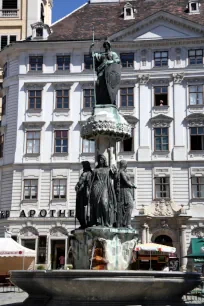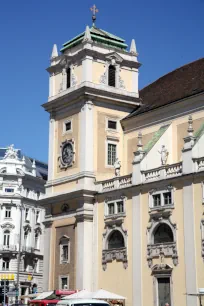 Austria Fountain
The fountain at the center of Freyung is known as the Austriabrunnen (Austria Fountain). The fountain was designed by the German sculptor Ludwig Schwanthaler and installed here in 1846. The statues above the basin are allegorical representations of the four main rivers of the Habsburg empire: the Elbe, Vistula, Danube and Po. The statue at the top symbolizes Austria.
Schottenstift
The Schottenstift complex, including its church – the Schottenkirche – was originally built between 1155 and 1200 and was situated just outside the city walls.
Little remains of this Romanesque structure, as it was rebuilt and expanded several times over the centuries. Its current Baroque appearance is the result of a seventeenth-century expansion. Some of the monastery's artwork can be seen in the Museum im Schottenstift, right next to the church. Here you can admire the fifteenth-century altarpiece, which was created for the Schottenkirche.
Palaces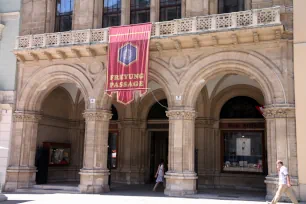 Around the Freyung are several palaces. At no. 3 is one of Vienna's oldest palaces: the Palais Porcia. Adjacent is Palais Kinsky, built in 1713-1716 after a design by Johann Lukas von Hildebrandt. Opposite the Schottenkirche is Palais Harrach, built in 1690. Next door is the most famous palace at the square, the Ferstel Palace, built in 1860 to a design by Heinrich von Ferstel. It is best known as the home of the Café Central, a popular coffee house, and the Freyung Passage, a beautiful shopping arcade.
Also of note is the entrance of the Kunstforum, designed by the Viennese architect Gustav Peichl. It is decorated with a golden sphere, often used by the Habsburg monarchy as a symbol for their power. The Kunstforum regularly organizes excellent art exhibitions.