One of Vancouver's newer neighborhoods, Coal Harbour has seen much growth since the 1990s.
Coal Harbour
Coal Harbour is a downtown Vancouver neighborhood located between expansive Stanley Park and the Canada Place Pier, which sits to the east. Technically, it is bounded by Burrard Street to the southeast, to the southwest by West Georgia and Pender Streets, and to the northwest by the park.
The neighborhood sits along a part of the picturesque Burrard Inlet, bearing the same name. The area got its name after coal was found here in 1859. The entire neighborhood is lined by a very lovely walkway, providing a wonderful place for residents or visitors to stroll or jog.
History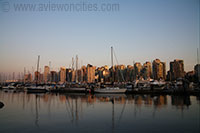 View from Stanley Park
For a long time this now residential area was mostly industrial, home to shipyards, a Boeing seaplane plant, a lumber mill. Railroads ran along the waterfront, connecting the industrial sites with the rest of Canada. Industrial activity dwindled after the second World War, and by the 1980s the area wasn't much more than a railway switchyard.
Things started to change however with the construction of Canada Place and the redevelopment of its surroundings in 1985. With an ideal location between the financial center and Stanley Park, the area soon started to attract attention.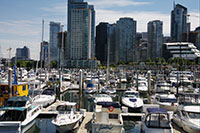 Coal Harbour Marina
In 1990, the city of Vancouver created a development plan for the area, which outlined its goal of transforming the industrial area into a residential waterfront neighborhood. One of the conditions for potential developers was that for every 1,000 people, 2.75 acres (about 1 ha.) of park had to be created. From 1995 on, construction of new residential high-rises accelerated and in just a span of fifteen years, a whole new neighborhood was created.
Coal Harbour Today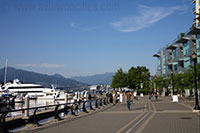 Coal Harbour promenade
Coal Harbour is now a pleasant residential area, where plenty of glass skyscrapers along the waterfront give residents a great view over its marina and the Burrard Inlet Harbour towards the mountains surrounding the city. Thanks to the city's policies implemented in 1990, Coal Harbour's waterfront boasts lots of green spaces, including the new Harbour park. One of the latest additions in the area is the new Vancouver Convention Centre expansion, which boasts a 2.4-ha / 6-acre-large green living roof.
Coal Harbour walkway
The best way to enjoy the area is by walking along Coal Harbour's walkway, a paved walking and biking path starting near Canada Place. It is connected with the seawall along Stanley Park and runs along Coal Harbour's waterfront. The route is bordered by several small parks and can be very lively near the marina, where you'll also find some nice restaurants and bistros.