Once a rundown warehouse district on the shores of False Creek, Yaletown is now one of Vancouver's most sought after neighborhoods.
History
Yaletown
The section of Vancouver known as Yaletown gets its name from the town of Yale, about 150 miles to the east. It was situated at the end of a Canadian Pacific Railway line and was a small gold rush-era town. When the rail line was extended to Vancouver, residents of Yale made their way to the city and organized their own settlement, calling it Yaletown.
Because it was close to False Creek, much industry was set up in Yaletown. Eventually, due to the presence of an abundance of factories and warehouses, the neighborhood began to appear run down and parts of False Creek became contaminated.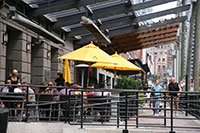 Yaletown remained shoddy and largely abandoned until the city began buying up some of its land. In 1986, the World's Fair (Expo 86) was held on the site of former industrial land in Yaletown and that occurrence sparked an interest in the land and its conversion to a residential area. The purchase of Yaletown by a Hong Kong-based developer set a rebirth in motion.
Today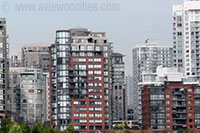 Modern highrises
Since the resurgence of interest in the area began in the late 1980s, Yaletown has become a densely populated but attractive residential area on the waterfront. City officials have made sure that developers include plenty of green areas in their plans so there is plenty of parkland in the Yaletown neighborhood as well as a seawall around the region attracts joggers, in-line skaters, dog walkers, and cyclists.
Any homes that were built in the nineteenth and early twentieth century have pretty much disappeared, but many old warehouses have been converted to loft-style apartments that fetch a hefty sum of money when offered for purchase.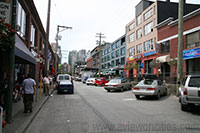 Mainland Street
On the bottom floor of these former warehouses, you'll find trendy bars and restaurants as well as a number of classy retail establishments.
Some say that Yaletown looks very much like a small version of Hong Kong, with the remainder of its buildings being mostly high rise glass and concrete skyscrapers. Some have praised the development while others consider it unattractive.