The University of British Columbia Botanical Garden was created in the early twentieth century as a Centre for Plant Research, dedicated to education and conservation.
History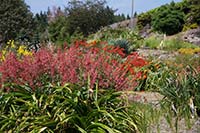 UBC Botanical Garden
The UBC Botanical Garden was first established in 1916 when the collection of John Davidson was transported to the UBC campus. Davidson was the former curator of the Botany Museum of Aberdeen in Scotland and had started the botanical collection in 1911 as part of a survey of the flora in British Columbia. When the UBC moved from its Fairview campus to its present location at Point Grey in 1925, the collection was moved to the new campus as well.
The garden expanded over the years until around 1966, when it reached its current size of 44 hectares (close to 110 acres).
Gardens and Plants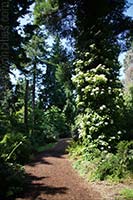 There are a number of different "gardens" at the UBC Botanical Garden, which contains about 8,000 plants: the Alpine Garden, Asian Garden, Carolinian Forest, Food Garden, Native Garden, the Physic Garden, and a handful of other small garden areas.
In the Alpine Garden, visitors will not only have the opportunity to view North American alpines, but also examples of alpine habitats from The Canary Islands, the Andes Mountains, New Zealand, and even coastal Morocco. The Asian Garden, the largest of all the gardens, features plants from Tibet, Japan, China, Korea, Manchuria, and other regions, with specimens including a number of ancient flowering plants.
Still in its early stages, the Carolinian Forest will include plants and trees from Canada's Maritime Provinces all the way down the coast to the Carolinas and Georgia. The Food Garden features established and experimental varieties of a number of fruits and vegetables, some of which eventually wind up at local soup kitchens.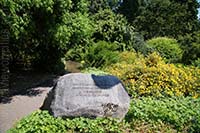 The Native Garden, of course, includes local plants, trees, and shrubs while the Physic Garden showcases healing plants used as long ago as 50,000 BC. Some are more modern, however, dating back to England's Medieval, Tudor, and Elizabethan periods.
Centre for Plant Research
The UBC Centre for Plant Research endeavors to "explore, explain and maintain plant life on Earth". Research themes at the Centre include evolution and biodiversity, plant biotechnology and breeding, and phytochemistry. The research centre is staffed mostly by University of British Columbia faculty as well as additional research assistants.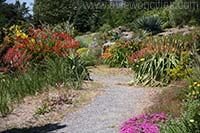 Both the Centre and the gardens serve as a "green classroom" for locals and visitors. Weekend courses and noon lectures are presented by the staff, and special evening events are held at various times throughout the year. Plant sales are offered now and then, and the UBC Botanical Garden also sponsors an annual Apple Festival.
The facility suggests that the best times to visit are April, May, September, or October, but the gardens are open all year round.