An easy landmark to spot, Canada Place is a pier with a cruise terminal built in the shape of a ship's sails. It is also home to a number of Vancouver businesses and attractions.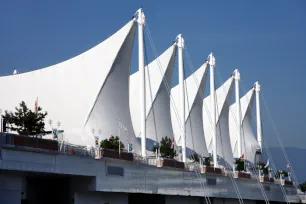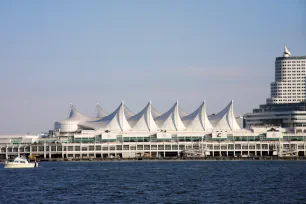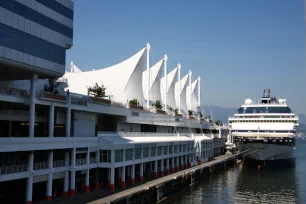 Rebuilt for Expo '86, a gala World's Fair that was held in Vancouver, Canada Place was originally the site of an old cargo pier. Recognizing the beauty of the city's harbor area, Vancouver officials decided to turn the pier into an attractive and unique structure that would certainly garner some international attention during the festivities.
Some compare the structure to the Sydney Opera House. It certainly has its similarities. Not quite as grand as the Australian structure, Canada Place – like the opera house – does indeed resemble the sails of a boat. The five "sails" rise above the inlet, paying homage to British Columbia's rich maritime history.
While Canada Place currently serves as a cruise terminal, it's also much more. This multi-use commercial facility is Western Canada's largest convention facility and home to offices, shops, and a variety of attractions and special events that can be enjoyed by visitors of all ages.
Things to Do
The most interesting attraction at Canada Place is the Promenade into History. Guests travel along a walkway on a self-guided exploration of Vancouver's past. Photos and anecdotes enhance the stories and, all the while, visitors can enjoy great views of the harbor.
The Vancouver Port Authority also hosts an Interpretive Center, located at the North End of Canada Place, where visitors can learn about the port through a series of interactive games, videos and information panels.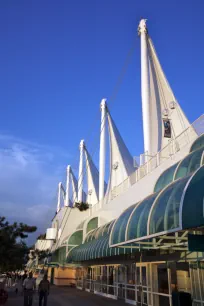 On the West Promenade, guests can experience the sounds of music presented by an all-Canadian cast of musicians from around the country. Stop and listen for a while! Additional entertainment is scheduled throughout the year.
Canada Place was long home to the world's first permanent IMAX Theatre, which closed in 2009. Instead, visitors can now enjoy a virtual flight ride.
If you're lucky enough to be in Vancouver between May and October, you can also admire the many cruise ships that dock at Canada Place, returning or awaiting departure to Alaska.
Exploring Canada Place is free, and it's easy to reach the attraction via the SkyTrain or the SeaBus terminals at Waterfront Station nearby.