Vancouver's handsome Waterfront Station was built in 1914 as the city's main railway station. While it lost that function a long time ago, the building is still the hub for several forms of public transportation that travel in and around the city.
History and Uses of the Station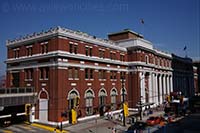 Waterfront Station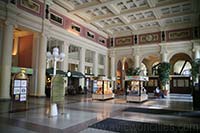 Waterfront Station interior
The neoclassical-style Waterfront Station, situated on the south shore of Burrard Inlet, was constructed by the Canadian Pacific Railway (CPR). Built in 1914 and known as the Canadian Pacific Railway Station, it served as the western terminus for the railroad's trains arriving from points east, namely Toronto and Montreal. The station served the same purpose until the late 1970s, when CPR moved its trains to the Pacific Central train terminal, close to the site of the in 1965 demolished Great Northern Station near False Creek.
At that point, Waterfront Station began the conversion to an intermodal transportation facility. It has gradually been transformed to a station that can accommodate a variety of different modes of public transportation, including the city's Sky Trains, which were introduced in the mid 1980s in time for Expo 86.
The station also accommodates the popular SeaBus, connecting Downtown Vancouver with Lonsdale Quay in North Vancouver. Various bus routes also converge upon Waterfront Station, and in 2009, the Canada Line metro to Richmond and Vancouver International Airport will stop at Waterfront Station.
About the Building
The Colonnaded facade
Built by the Montreal architectural firm of Barott, Blackader, and Webster, Waterfront Station is Neoclassical in style, different from many of the traditional Canadian Pacific stations and the accompanying hotels that often sat nearby. More than a dozen ionic columns grace the facade, and visitors can still see the Canadian Pacific Railway moniker above the columns.
In front of the station sits a bronze Angel of Victory statue, crafted by London-born sculptor Coeur de Lion McCarthy. It was commissioned in 1922 in memory of the 1,100 CPR employees who died in World War I. A plaque that also memorialized those who perished in World War II was added in the late 1940s.
Inside, the walls are painted with wonderful murals that depict the scenery that one would see when traveling from the eastern portion of Canada to Vancouver, including the Rocky Mountains and other sights. The murals were painted by the wife of a CPR executive.