One of the tallest buildings in the city, Vancouver's Harbour Centre is more than just a skyscraper.
Architecture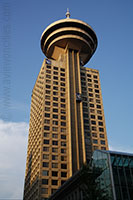 Harbour Centre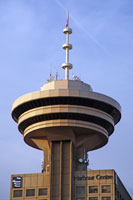 The Lookout
Easily visible from nearly anywhere in the city, Harbour Centre boasts 28 stories and stands 482 feet tall (146 m.). It was completed in 1977 and designed by WZMH Architects, who also designed Shanghai's beautiful Golden Sail Plaza and several other notable buildings.
What makes the Harbour Centre taller than any other building in Vancouver is the 100-foot ornamental pylon that sits at the top of the structure, resembling the Seattle Space Needle.
At the top of the building, you'll find both a revolving restaurant and a popular observation deck, one of Vancouver's most visited tourist attractions, sitting at approximately 550 feet or 167 meters. The observation deck officially opened on Aug. 13, 1977 with a ceremony at which Apollo 11 astronaut Neil Armstrong was the special guest. You can find his footprint in the cement there.
Vancouver Lookout at Harbour Centre
Recently renovated, the Vancouver Lookout at the top of Harbour Centre is often the first stop for those visiting the city for the first time. It takes just fifty seconds to get to the observation deck via glass elevators that climb the outside of the building. Once you arrive at the top, you'll be treated to a 360 degree view of Vancouver and the nearby coast and surrounding mountains.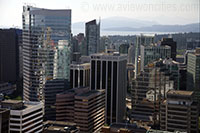 View from the Lookout
The Lookout is open all year long, although the winter hours are shorter. There is a fee for the ride, but the view is worth it. Group rates are available. Check out the lookout's website for more info: vancouverlookout.com.
The Top of Vancouver Revolving Restaurant operates independently from the Vancouver Lookout. Reservations should be made in advance, especially during peak tourist season. The restaurant serves lunch, dinner, and Sunday brunch.