Considered Canada's finest example of Art Deco architecture, Vancouver's Marine Building continues to garner praise for its design.
History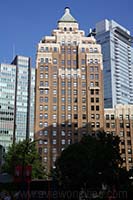 Marine Building
The idea for the addition of the Marine Building to the city of Vancouver came from Lt. Commander J.W. Hobbs, a Toronto entrepreneur, who recognized the city's potential as a major port, especially after the opening of the Panama Canal in 1914.
Hobbs decided the city should have a grand skyscraper, not unlike New York's recently-built Chrysler Building. The firm of McCarter and Nairne were hired to tackle the project. Neither McCarter, the engineer, nor Nairne, the architect, had worked on a skyscraper before this project.
The building was to be situated at the foot of Burrard Street with a view of the harbor – a nod to Vancouver's soon-to-be status as a major port. Dubbed the Marine Building, this masterpiece was designed in Art Deco style, the preferred style of the 1920s. It soon became one of the best examples in the entire world of this style of architecture, English poet and architectural critic Sir John Betjeman even called this the "best Art Deco office building in the world".
Marine Life Decorations
The 321-foot-high (97-meter) building opened in 1930 and cost a whopping $2.3 million to build, more than a million dollars over the planned budget.
Design
The exterior features lots of decorative art – mostly flora and fauna – and is tinted a lovely sea-green color with gold highlights. More than 2,100 panes of glass were used for the building's many windows.
Massive brass doors open to the huge, high-ceilinged Grand Concourse lobby, which measures about 88 feet (27 meters) long. Indicative of the theme of the building, visitors will find plenty of sea-themed decorative art and treasures in the lobby area, including depictions of crabs, turtles, seahorses, snails, and more. (Look closely at the clock – the numbers are tiny sea creatures!)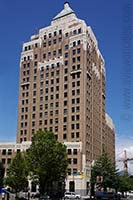 The elevators were renowned for their high speed (more than four times the speed of most) and visitors were awed at the twelve varieties of local hardwood that were found inside of them.
Above the nineteenth floor was a penthouse, which could only be reached by a four-person elevator from that floor. It had two stories, three levels, and a wrap-around terrace.
Today
Since the 1980s, extensive renovations totaling about $15 million have been performed inside and outside the Marine Building in hopes of restoring it to its original glory. The building is almost always 100% occupied, boasting about 40 tenants who occupy nineteen floors and the basement. One tenant, Marine Printers, has been located in the basement since the day the building opened!