This garden, located in South Vancouver, is one of two botanical gardens in Vancouver and the closest one to downtown. The other one is located on the campus of UBC, 13 km west of the city center.
The Garden's History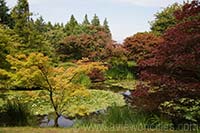 VanDusen Botanical Garden
Situated in the center of South Vancouver, British Columbia, the VanDusen Botanical Garden is located on land that was once owned by the Canadian Pacific Railroad and, later, a golf club. When the golf course closed in 1960, concerned citizens stepped in to save the land from development. The land was purchased with shared funding from the City of Vancouver, the Government of British Columbia and the Vancouver Foundation, including a sizeable donation from W. J. VanDusen, after whom the garden was named.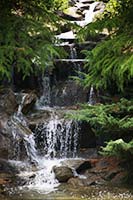 Waterfall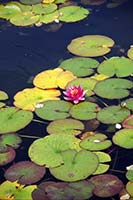 Water lilies
The garden opened in August 1975. W.C. Livingstone was initially responsible for the landscape development. The Floral Hall and Garden Pavilion were designed by Underwood, McKinley, Wilson and Smith with Herb Wilson as chief designer and architect. The award-winning Forest Centre was designed by Thompson, Berwick, Pratt and Partners with Paul Merrick, design architect.
About the Garden
VanDusen Botanical Garden covers about 22 hectares (55 acres) and is home to more than 255,000 plants representing more than 7,300 varieties from around the world. The plants are organized to represent the flora of various ecosystems, including the native Pacific Northwest as well as subtropical Africa, the Himalayas, Arctic Canada, and others.
Among the plants and trees, guests will also notice quite an impressive collection of sculpture. The offerings are varied and range from local First Nation totem poles to busts of famous Canadians to very contemporary pieces by sculptors from around the world and several fountains. Some were created at the Vancouver International Stone Sculpture Symposium, held at the botanical garden in 1975.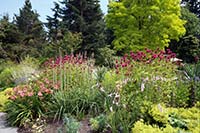 Visitors may tour on their own or take advantage of docent-guided walking tours, free with admission. Golf cart tours are also available for seniors or those with disabilities. Group tours may be booked in advance.
In addition to myriad plants and flowers, VanDusen Botanical Garden also boasts a lovely little shop where you can not only buy the usual trinkets, but also seeds, plants, books, and home and garden accessories. There's also a restaurant on site which offers very creative Pacific Northwestern cuisine, served in a tranquil setting amidst the garden's greenery.