An exciting avenue with an international flavor and plenty of shopping opportunities, Robson Street is Vancouver's busiest thoroughfare.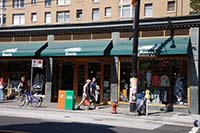 Robson Street
Cutting right through downtown from the BC Place Stadium to Stanley Park, Robson Street is the place to see and be seen in Vancouver.
Its History
Named for John Robson, premier of British Columbia from 1889-1892, Robson Street's importance in the life of the city of Vancouver actually stretches all the back to the late 1800s, when a number of small shops were built here for the convenience of early residents.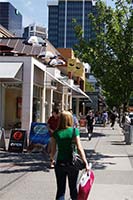 Sidewalk
Later, the long stretch of bustling road was dominated by European merchants – particularly Germans – who arrived in the city post World War II. For that reason, Robson Street was dubbed Robsonstraße for many decades. European residents traveled here daily to visit the many shops, delicatessens, markets, bakeries and other retail establishments that sold the goods they needed for their home and family and it became the center of life in Vancouver.
Robson Street Today
Today, Robson Street has become known for a number of things, not the least of which is the quirky individuals that frequent the street. From punkers to Goths to very "normal" people, you'll see it all on Robson Street. No wonder people watching is a popular pastime here.
Many locals and tourists, however, head to Robson Street because it is truly Vancouver's fashion mecca.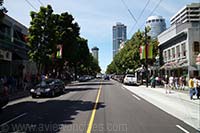 Robson Street
Lined with stores by some of the world's top designers as well as small local boutiques and other popular well-known retail shops, Robson Street attracts those who have a keen interest in fashion and shopping. However, if you're just shopping for Vancouver souvenirs and other kitschy items, you'll find plenty of those there as well.
Need a bite to eat? No problem. Robson Street is lined with restaurants, cafes, and fast food eateries and the international flair is still very much present along this popular street.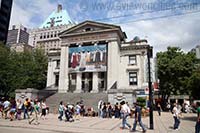 Vancouver Art Gallery
Cuisines include Asian, Spanish, German, French and many others, in addition to fine Pacific-Northwest food, such as scrumptious fresh-caught seafood. Of course, there's a Starbucks at least every two blocks!
The Vancouver Art Gallery is also located along Robson Street as are the modern Vancouver Public Library, Robson Square and the Pacific Centre shopping mall.