Housing both historic and contemporary art, Vancouver Art Gallery is best known for its impressive collections of photographs and Canadian art.
Architecture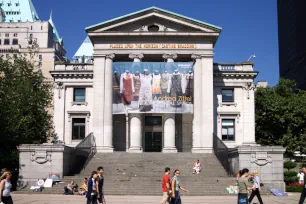 The exterior of the Vancouver Art Gallery is a work of art in itself. Built in the 1911 as the provincial courthouse, it became the local art museum in 1983. Neoclassical in style, it was designed by Francis Rattenbury, who designed the beautiful Empress Hotel in downtown Victoria. Constructed using marble from the U.S., the building features Ionic columns, lots of ornate stonework, porticoes, and a central dome. Originally it housed eighteen courtrooms.
An annex was added in 1912, but that particular section is not part of the art gallery. The annex is on the National Heritage list, still containing original judge's benches and other features of the courthouse.
The lions in front of the building are modeled from the ones in London's Trafalgar Square, and the pretty Centennial Fountain was built in 1966 to celebrate the union of the province of British Columbia with the island of Vancouver (now known as Vancouver Island).
Redevelopment
During the 1970s, the building was redeveloped by renowned Canadian architect Arthur Erickson (also known for his Museum of Anthropology) as part of the redevelopment of Robson Square and Robson Street. In 1983 the former courthouse opened as the Vancouver Art Museum.
About the Museum
Home to over 80,000 works of art, the main emphasis of the Vancouver Art Gallery is to showcase works by great regional and national artists. Established in 1931 at a different location, the gallery is the principal repository for works created in the British Columbia region, but the permanent collection also includes masterpieces by other Canadian artists as well as international masters as well.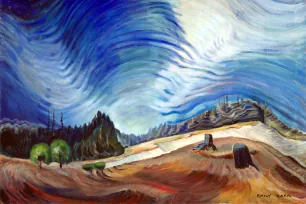 The Vancouver and BC collections include works that date back to the nineteenth century, including beautiful mountain and coastal landscapes. Works of the 1930s and 40s include pieces by well-known Western Canadian artist Emily Carr. First Nations artists are also profiled, as are contemporary photographic works by today's local and regional artists. As a matter of fact, Vancouver Art Gallery now has one of the most significant international photo-based collections in North America.
The gallery also hosts a number of changing exhibitions, including some that have traveled to Vancouver from around the world.
Events and Programs
Regular public tours of the art gallery are available each day, and additional tours for special exhibitions are scheduled as well. Vancouver Art Gallery also hosts a number of special events and programs open to the public, including screenings of contemporary or Indie films, and classes for all ages, including such topics as cartoon drawing.
The gallery is open daily and tickets can be purchased in advance online. There's also a small gallery store and a café on site.