Home to some of the loveliest gardens in the city, Queen Elizabeth Park is said to be the second most-visited park in Vancouver.
Park History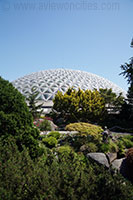 Queen Elisabeth Park
Situated on what was once the site of a quarry, 130-acre (53 ha) Queen Elizabeth Park was named in honor of the Queen Mother. Sitting at 500 feet (150 m.) in altitude and referred to by locals as Little Mountain, the park sports one of the best views in the city and is also a joy to explore, not only for garden lovers but also for those simply looking for a beautiful place to relax.
The park was established in the 1930s after the old quarry area, which closed in 1911, had become an eyesore. The first garden at the site was proposed by the British Columbia Tulip Association, who later turned the area over to Vancouver Parks and Recreation, who gave the park its current name.
What's There?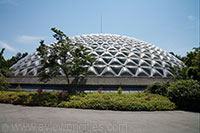 Bloedel Floral Conservatory
The gardens are the centerpiece of beautiful Queen Elizabeth Park. The main Quarry Garden includes a colorful array of annual and perennial flowers that change with the seasons. A stream runs through the garden and a waterfall cascades peacefully among the flowers.
The enclosed Bloedel Floral Conservatory is where guests can explore a number of wonderful tropical and exotic plants, as well as Koi fish and exotic birds.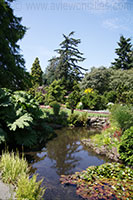 Queen Elizabeth Park Arboretum was established nearly 70 years ago with the goal of including every tree species native to Canada. Trees continue to be added in search of that goal but exotic trees from other countries are part of the landscape as well. Arborists lead "tree walks" to help educate visitors on the varieties at the park.
While it might take a few hours to explore the gardens, there are also plenty of other things to do at Queen Elizabeth Park. The park has a disc (Frisbee) golf course as well as a 3-par Pitch and Putt Course and putting green. The Queen Elizabeth Park Lawn Bowling Club is very active and plays whenever the weather allows. Visitors are welcome to join in the fun.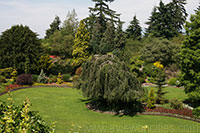 In addition, 18 tennis courts are located on site, and you'll also find locals practicing Tai Chi at the park each morning. Again, visitors are welcome to join. There's also plenty of picnic space located throughout the park.
You'll also find a wedding pavilion on site, a restaurant, a lovely fountain, and a "painter's corner", where local artists sit together to paint the landscape. Some also paint caricatures for visitors.