The Capilano Canyon Regional Park is situated on the edge of North Vancouver and can be reached from downtown in just about ten minutes by car.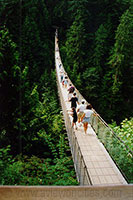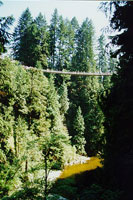 Capilano
Suspension Bridge
Its most well-known attraction is the Capilano Suspension Bridge, originally built in 1889 by a pioneer with the help from local natives.
The current wood-and-rope bridge is the fourth on this site. It was built in 1956 and stretches out seventy meters above the canyon floor, giving a breathtaking view over the splendid natural setting.
Unfortunately, there's an admission charge to cross the bridge, but you can also visit the less famous Lynn Canyon Park at the eastern edge of North Vancouver. This park's suspension bridge is even a little higher than the Capilano one, and it's free of charge.
Another attraction in the Capilano Park is the Capilano Salmon Hatchery. Despite the proximity of the metropolis nearby and the dense population, the salmons travel all the way upstream the Capilano river from the Pacific Ocean to hatch. Due to a dam, the salmons have to be given a little help, and you can see at the hatchery how this is done. If you're lucky, you can actually see the salmon swim upstream for yourself.