Situated in the heart of the city, the Hotel Vancouver is one of British Columbia's most recognizable landmarks.
History of the Hotel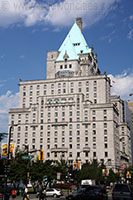 Hotel Vancouver
The current Hotel Vancouver is actually the third hotel with that name located in the city. The first hotel was modest at best, a five-story brick structure. It was built in 1886 by the Canadian Pacific Railway on a plot of land that was given to the company for making Vancouver the western terminus of its trans-Canadian railway. The railway line – originally terminating in Port Moody, some twenty km to the west – was extended to Vancouver the next year, in May 1887.
The second and grander structure opened in 1916 and was the center of Vancouver society for many years. Unlike many of the Canadian National Hotels, it was built in Italianate style, rather than the normal Château style that was so common in the railroad hotels. The second structure ceased to be used as a hotel in 1939 – when it lent its name to the new Hotel Vancouver – after which it served as a government office building, and was torn down in 1949.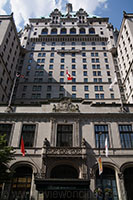 The building's
imposing facade
In the meantime, construction of a new Hotel Vancouver, located a block away, was initiated by the Canadian National Railway in 1929. After being stalled because of the Great Depression (the construction stopped cold for five years), the beautiful "Hotel Van" was finally opened in 1939, just in time for the Royal Visit of King George VI and Queen Elizabeth. It cost $7 million to build Hotel Vancouver and the structure is crafted in the aforementioned Château style, much like the beautiful old railroad hotels in Banff (Banff Springs Hotel) and Quebec City (Hotel Frontenac).
Hotel Vancouver became part of the Canadian Pacific Hotel chain in 1988 and the chain name was changed to Fairmont several years later.
About the Building
Designed by John S. Archibald and John Schofield, the third Hotel Vancouver is 17 stories high and stands 111 meters (about 364 feet) tall. It's undoubtedly one of the first structures visitors notice when entering downtown Vancouver.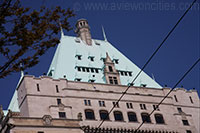 The green-patina copper gable
Originally to be named the Hotel British Columbia, Fairmont Hotel Vancouver features an oxidized copper roof that is now that distinctive green color, not unlike the Statue of Liberty. The exterior decoration includes many mythical figures, including griffins and flying horses. The parapets are adorned with fierce-looking Gothic style gargoyles, replicas of original gargoyles on medieval French cathedrals. The interior of the hotel features rich mahogany wood, lots of brass, and plenty of crystal chandeliers and other adornments.
The hotel was renovated in 1989 and then again ten years later. $70 million was spent on the most recent renovation. Hotel Vancouver remains one of the most elaborate and expensive in the city and attracts a number of stars who frequent Vancouver for the filming of movies or television shows.