The three towers of the Wall Centre include what was the tallest skyscraper in Vancouver until 2008.
Construction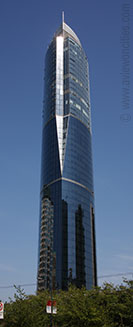 One Wall Centre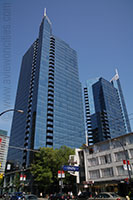 Sheraton Wall
Centre Hotel
Covering an entire city block, construction of the three buildings that make up the Wall Centre began in 1993 and culminated in 2001 with the completion of One Wall Centre, at the time the tallest skyscraper in Vancouver and winner of the Emporis "Best Skyscraper of the Year" award in 2001.
The Wall Centre Towers include the 30-story Suites at Wall Centre, which is 283 feet tall (86 m.) and includes office and residential condominiums. At 35 stories tall, another structure, the Sheraton Wall Centre South Tower, stretches to about 335 feet (102 m.) and was the first building of the three, completed in 1994.
One Wall Centre
But, by far, the centerpiece of the complex is the 48-story One Wall Centre, home to a hotel as well as residential condominiums. The skyscraper was the brainchild of Peter Wall, head of the Wall Financial Corporation.
Standing nearly 500 feet tall (about 150 meters), One Wall Centre appears two toned from the outside because it is! The glass on the lower levels is darker than that on the upper floors because the City of Vancouver wanted the building to blend with the sky and not stand out. Because the glass on the lower floors turned out to be too dark, the change was made after construction of the building began. Therefore, the top 1/3 is lighter.
Narrow and elliptical is shape, One Wall Centre has room for only four apartments on each floor. The Sheraton occupies the first 27 floors and, together with its South Tower, the two buildings make up the largest Canadian hotel west of Toronto.
In order to control wind vibration, the building has two Tuned Liquid Column Dampers on its roof. They each hold 134,000 gallons (5,072 hl.) of water.
The Wall Centre lost the title of tallest building in Vancouver with the construction of the 62-story Shangri-La tower, a mixed-use skyscraper built in 2008.