Home to the Toronto Blue Jays major league baseball team and the Toronto Argonauts football team, the Rogers Centre is the city's premiere sports facility.
History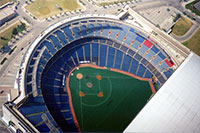 The open dome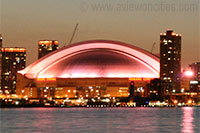 The stadium at night
Canada's often harsh weather can make watching or playing a sports game in an outdoor stadium a pretty miserable experience. Hence the largest cities started building covered stadiums large enough to hold major sports events. Montreal had its Olympic Stadium since 1976 and in 1983 Vancouver built the large air-supported BC Place Stadium.
That same year, Toronto – Canada's largest city – decided to finally build a domed stadium. Two years later, in 1985, an international design competition was held for the construction of a large domed stadium with retractable roof. The selected design allowed for the roof to open up to 90%, much further than Montréal's (now defunct) retractable roof.
When the stadium opened in 1989 as the skydome, it received many honors for its design and was immediately lauded as one of the finest structures in the stadium industry. In 2005 the skydome was renamed Rogers Centre after the telecommunications company.
Design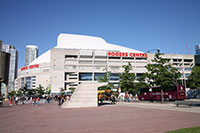 Rogers Centre
The retractable roof remains the centerpiece of the Rogers Centre. Able to fully open or close in twenty minutes, the roof rises to a height of more than 85 meter (280 feet), tall enough to accommodate a 31-story building in the center of the field. The top of the dome has a height of 312 ft or 95m. Split into four sections, the northern portion of the roof stays stationary while the other three portions retract, opening in a smooth, circular motion.
The building itself covers about 11 acres (4.6 ha) and can accommodate about 46,000 spectators for a baseball or football game and slightly more for particular concerts, according to stage configuration.
Visiting Rogers Centre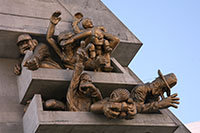 "The Audience" by Michael Snow
Most people make a trip to the Rogers Centre to enjoy a sporting event or concert.
Because of its retractable roof, the facility is busy year round. However, if you'd like to get a behind-the-scenes look at the complex, guided tours of the Rogers Centre are available at various times in accordance with event schedules at the facility.
The Rogers Centre is located right near the CN Tower and is within walking distance from the Union Station.