Inspired by the notes of a cello piece by Johann Sebastian Bach, Toronto's Music Garden provides a great venue for intimate concerts and a lovely place to relax and enjoy the beauty of the waterfront.
Building a Garden of Music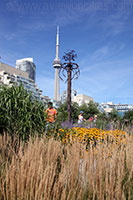 Music Garden
In 1997 internationally renowned cellist Yo-Yo Ma collaborated on a six-part film series entitled "Inspired by Bach". For the first film in the series, which is entitled The Music Garden, the instrumentalist worked with landscape designer Julie Moir Messervy to interpret, through nature, the music of Bach's First Suite for Unaccompanied Cello.
Ma and Messervy approached the city of Boston about building such a garden in that historic city. The Boston project eventually died, but the City of Toronto Parks and Recreation Board decided to offer to sponsor the project. The cellist gratefully accepted the offer and in 1999 Toronto's new Music Garden was officially opened.
About the Garden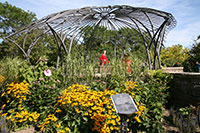 Menuett
The Music Garden is composed of six sections, each corresponding with a different dance movement of the suite.
The first movement, the Prelude, represents a flowing river. Visitors can stroll along the "stream bed" and admire the native Hackberry trees, whose straight trunks and regular spacing are meant to resemble measures of music.
The German dance form Allemande, the second movement, is represented by a thick Birch forest, while the French Courante, the third movement, is described as "a huge, upward-spiraling swirl through a lush field of grasses and brightly-colored perennials that attract birds and butterflies". A maypole also stands in this portion of the garden.
The Sarabande, a Spanish dance, is a conifer grove in the shape of an arc. In the center sits a huge rock, used as a stage for readings, and a small reflecting pool.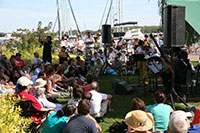 A concert in the Music Garden
The fifth movement, Menuett, is a symmetrically-designed portion of the garden where you'll find a small circular pavilion, perfect for dance groups or small instrumental ensembles.
The last movement, the Gigue, is represented by a series of giant grass steps that offer views onto the harbor. The steps form an amphitheater and the area is used for informal performances.
Visiting the Garden
Guided 45-minute tours of the garden are available on Wednesdays between June and September or guests can participate in a self-guided 70-minute audio tour, narrated by Ma and Messervy.
Concerts by renowned Canadian musicians and dancers take place during the warmer months of the year and admission to this handicapped-accessible park is free.