A wonderful combination of old and new architecture, Toronto's Brookfield Place is a mixture of shops, services, restaurants, and office space.
Blending Old and New
Canada Trust &
Bay Wellington Tower
Situated on a 5.5 acre (2.2ha) parcel that was once considered "the most valuable business block in the city", Brookfield Place is a massive complex that consists of two contemporary office towers and twelve unique older properties that survived the Great Fire of 1904, which destroyed much of downtown Toronto. The property, which was originally known as BCE Place, includes about 2.6 million square feet of office and retail space.
The complex's two towers – The Bay Wellington Tower and the TD Canada Trust Tower – were built in 1990 and 1991, respectively. The first was designed by Bregman and Hamann Architects. Bregman and Hamann also had a hand in building the second tower, along with Skidmore, Owings & Merrill LLP.
Crystal Cathedral of Commerce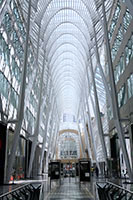 Allen Lambert Galleria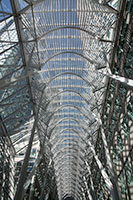 The Galleria's
glass vault
For those who enjoy contemporary architecture, the jewel of Brookfield Place is the amazing Allen Lambert Galleria. This six-story pedestrian thoroughfare, measuring 85 feet high, 45 feet wide and 360 feet long (24x14x110 meter), has been dubbed the "crystal cathedral of commerce" and its design was the result of an international competition.
The winner, Santiago Calatrava of Spain, makes amazing use of glass and light in this building which has become one of the most photographed in Toronto. The Galleria is six stories high and consists of eight freestanding steel supports on either side of the Galleria. The supports branch out into parabolic shapes and seem to resemble the canopy of a forest.
The twelve surviving historic buildings have been incorporated into the complex and serve a variety of different purposes. For example, the old Bank of Montreal building now houses the Hockey Hall of Fame, which is a must see for any avid hockey fan.
While the offices at Brookfield Place are home to many financial institutions and other important Toronto companies, visitors will love the vast variety of retail stores located on the concourse and ground levels in addition to a number of fast food eateries and traditional sit-down restaurants located there as well.