One of the unique features of the Montreal Olympic Stadium is its inclined tower. The observatory that sits atop the tower offers a bird's-eye view of the city.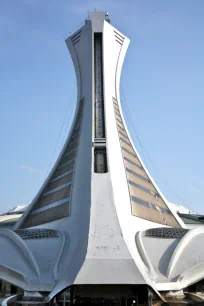 About the Tower
When the world was due to converge on Montreal for the 1976 Summer Olympics, the city embarked upon the construction of a new stadium that was to have a unique observatory tower that would provide visitors with an incredible view of the Olympic area and the city in general.
However, it wasn't until more than ten years after the Olympic athletes left this Quebec city that the Montreal Tower Observatory opened to the public. In actuality, it wasn't really until during the building process itself that architects and planners decided to place the observatory, the exhibition hall and the reception hall on the three upper floors of the tower.
Since its opening in 1987, the tower – known as the Tour Olympique or Tour Montreal – has welcomed more than four million visitors. Indeed, visiting the observatory is an awesome experience for guests. As the highest inclined tower in the world, Tour Olympique stands 175 meters tall and at a 45-degree angle. (In comparison, the Leaning Tower of Pisa sits at only a 5% angle!) On a clear day, visitors can see the Laurentian Mountains, located about eighty kilometers (fifty miles) away.
The Funicular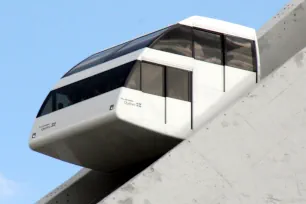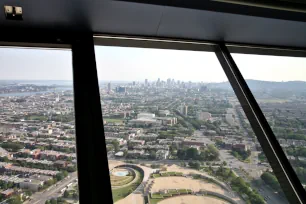 Getting to the top of the tower is half the fun! Guests ride a one-of-a-kind funicular that ascends the exterior of the tower, so the view begins from the time you enter the vehicle until you once again arrive safely at the station. According to published statistics, during peak tourist season, the funicular – which travels 2.8 meters per second (about 6 miles per hour) – makes approximately a hundred return trips each day along 266 meters (872 feet) of rail. Remarkably, each ascension takes less than two minutes.
The funicular has two levels and can carry 76 passengers at a time. Given time to load and unload, that means more than 500 people can ride each hour. Furthermore, this is the only funicular that works on a curved structure, allowing the vehicle to stay upright despite the incline.
Visiting Tour Olympique
The Montreal Tower Observatory is open year round except for six weeks – from early January through mid-February, when the funicular is closed for annual routine maintenance.
There is an entrance fee for everyone, except for children under age four. Special discount rates are available for older children, students, and senior citizens.