Serving as Montréal's central market for decades, Marché Bonsecours is a wonderful place to enjoy a little shopping, mixed with a bit of Canadian history.
In Days Gone By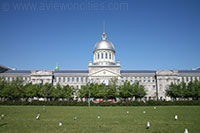 Marché Bonsecours
The area where Marché Bonsecours stands was always a busy center of cultural and social activity in the city of Montréal, boasting mansions, hotels, and even a theater where Charles Dickens and his band of actors once performed.
By the mid-nineteenth century, the need for a central market was realized and construction of the Bonsecours Market began in 1844 with a design by architect William Footner. This public market officially opened in 1847 though interior work continued until 1852. Footner was adamant that the building be a crowning example of what architecture could be in Canada and, indeed, the building has been lauded as one of the "ten major achievements in the History of Canadian Architecture".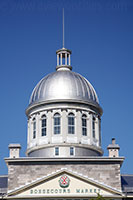 The Market's Dome
Bonsecours Market was home to Montréal's City Hall from its opening until 1878. Also during that time, architect George Browne added a Victorian concert hall in the East Wing of the market as well as an adjoining banquet hall, making it suitable for large parties and musical events.
The major purpose for Marché Bonsecours, of course, was as a market where Montréal citizens could come to buy produce from local farms. The market continued to serve in that capacity until it closed in 1963.
About the Building
Marché Bonsecours is built in the Neoclassical style, with a long facade and a colonnaded portico. These Doric columns were cast in iron and made in England. The silvery dome of the Bonsecours Market is its crowning glory and can be seen not only by most Montréal-ites from anywhere in the city, but also served as a landmark for sailors on the St. Lawrence River.
The Market Today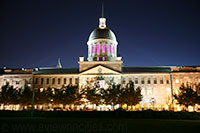 Marché Bonsecours at night
Because much of the market was abandoned for a few decades previous to its closing in 1963, extensive renovations were made the following year and the market became the home to city government offices in 1964. In 1992, it became the information and exhibition center for the celebration of the city's 350th birthday and has remained an exhibition hall since that time.
Visitors to Marché Bonsecours, which is the headquarters of the Craft Council of Québec and the Institute of Design Montréal, can browse through more than a dozen boutiques and enjoy lunch or dinner at a selection of restaurants, including the unique theme restaurant, Cabaret du Roy, where guests can eat in an eighteenth-century atmosphere.