The Mikhailovsky Castle was built at the end of the eighteenth century as the official residence of Tsar Paul I, who had it built complete with a moat and drawbridges to protect him against potential coups.
Paul I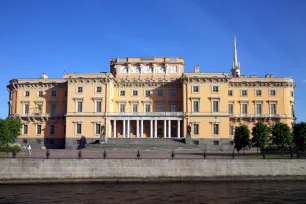 During his reign, Tsar Paul I had amassed a large number of enemies, mainly by favoring those who had opposed his mother, Catharina the Great, who he resented. The realization that the still numerous loyal supporters of Catharina could be plotting a conspiracy against him caused him to become paranoid. Fearing for his life, he commissioned the construction of a fortress-like palace, Mikhailovsky Castle.
Ironically, the almost impenetrable castle was unable to protect him, and he was murdered by his own soldiers in his bedroom just forty days after he and his family had moved into the fortified palace. Tradition has it that his spirit still haunts the castle's bedroom today.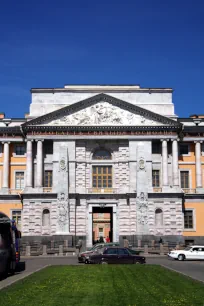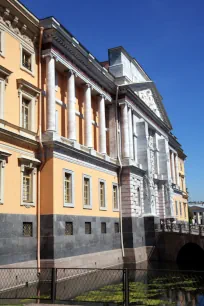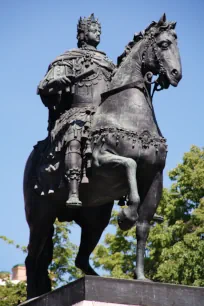 The castle
Mikhailovsky Castle was built in 1797-1801 at the site of a former wooden summer palace near the Field of Mars. The structure was constructed like a medieval fortress, complete with a surrounding moat, drawbridges, cannons and even secret escape passages. The castle was named after the Mikhailovsky church. The church was built in the west wing of the castle in honor of archangel Michael since Paul I considered Michael his divine protector.
The imposing brick building was designed by Vincenzo Brenna. The main entrance, facing south, is adorned with a grand marble portico in neoclassical style.
Later years
After Paul I was murdered on March 11, 1801, his son and successor Alexander I moved back into the Winter Palace and for a short period the building was used as an alms house.
In 1819 the Military Engineers' Academy settled here, which gave the building the name Engineers' Castle. Even though the military moved out in 1960, the castle is still popularly known by that name. The most famous cadet of the academy was the famous writer Fyodor Dostoevsky, who arrived here in 1838 at the age of sixteen.
In 1994 the castle became part of the Russian Museum. A visit to its the permanent and temporary exhibitions held here gives visitors a chance to admire the lavish interior of the former imperial residence.
Statue of Peter the Great
In front of the castle's main entrance stands a monument to Peter I (Not to be confused with the more famous Bronze Horseman). It was planned in 1715, when Peter the Great was still alive, and the emperor purportedly approved the design himself.
Bartolomeo Carlo Rastrelli, father of the famous architect responsible for the Winter Palace, created the model for the statue. It was only in 1800 that the statue was finally erected in front of the newly built Mikhailovsky Castle.