As its name implies, the Field of Mars was long used as a military exercise and parade ground. Today it is a peaceful open terrain; at its center is a monument honoring victims of the February Revolution in 1917.
History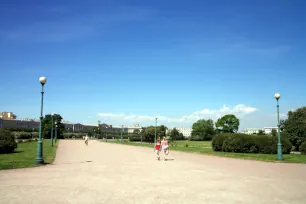 The Field of Mars was originally a marshy area near the summer garden. After it was drained in 1710 the area became the site for public markets and festivities; when Peter the Great declared Russia an empire in 1721, he organized a grandiose celebration here with spectacular fireworks.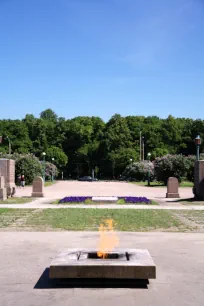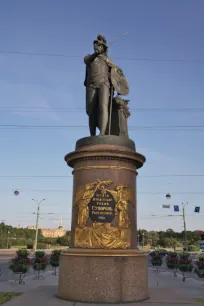 The area was named Tsaritsyn Meadow until the mid-eighteenth century, when tsar Paul I started to use the grounds for military exercises and parades, after which it became known as the Field of Mars, after the Roman god of war. During summertime, the field was often so dusty that it was sometimes nicknamed Petersburg's Sahara.
Revolutionary Memorial
At the center of the open field is the Monument for the Revolutionary Victims, erected here in March 1917 at the burial site of 180 revolutionaries. The monument honors those who died during the February and October revolutions of 1917 and the following civil war. It was designed by the Russian architect Led Rudnev, who is better known for his monumental Stalinist skyscrapers such as the Moscow State University and the Palace of Culture and Science in Warsaw, Poland. At the center of the monument is an eternal flame, lit in 1957 during the 40th anniversary of the revolution.
Suvorov Statue
To the north the Field of Mars, towards the Troitskiy Bridge, stands the statue of Alexander Suvorov, a Russian general who led the Russian-Austrian campaign against Napoleon in North Italy.
The statue, sculpted by Mikhail Kozlovsky, was unveiled in 1801 and shows an 8-meter-tall (26 ft.) bronze statue of the general on a large granite pedestal. A Cyrillic inscription is decorated with gilded reliefs of allegorical figures representing Glory and Peace. Armed with a sword and shield, the general protects two crowns and a tiara.