The site of many major musical premieres, the nineteenth-century Mariinsky Theatre was St. Petersburg's answer to Moscow's Bolshoi Theatre. To this day, it remains the preeminent classical opera and ballet venue in St. Petersburg.
History
The arts have long been important to the Russians. The first ballet and opera theatre was founded in 1783 by Catherine the Great. Prior to that, the arts companies performed for the public in a smaller wooden building known as the Little Theatre. The Hermitage Theatre, which was already in existence, was used only for aristocratic performances. And at Catherine's behest, the Bolshoi Kammeny Theatre was built.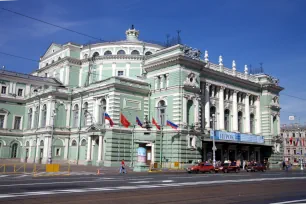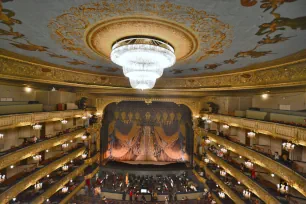 But it wasn't long before a larger facility was needed to house the growing audiences who enjoyed the top-notch opera and ballet performances that were presented in the city. In 1860, architect Albert Cavos built a magnificent new theatre to replace the Equestrian circus which burnt down a few years before. The theatre became a rival of the famous Bolshoi Theatre, which was built by the same architect in 1825.
Named for Empress Maria Alexandrovna, an advocate for the fine arts, the new Mariinsky Theatre, with its 1,625 seats housed in a U-shaped, Italian style auditorium, opened in October 1860 with a performance of "A Life for the Tsar" by Mikhail Glinka.
Premieres
Some of the most influential composers of the nineteenth and twentieth centuries premiered their works at the ornate imperial Theatre. All the operas of Glinka, Mussorgsky, and Tchaikovsky were premiered there, as well as ballets staged by Marius Petipa, famed Russian choreographer. In addition, renowned names in Russian ballet and some of the world's best conductors of the last two centuries began their careers at the Mariinsky Theatre.
The Mariinsky Theatre in the Twentieth Century
In World War II, the theatre was extensively damaged during the 900-day Siege of Leningrad, which lasted from 1941 to 1944. It was restored shortly thereafter. Soon, during Soviet times, the Mariinsky Theatre was given a different name, known as the Kirov Opera and Ballet Theatre. Today, the theatre once again boasts its original name – restored in 1992 – and is internationally acclaimed, particularly for classical ballet.