Established in 1718 by Peter the Great, the Kunstkammer was the first museum established in Russia. Facing the Winter Palace, it is home to the Peter the Great Museum of Anthropology and Ethnology.
This expansive museum started out as a natural science museum with Peter the Great's personal collection of 'curious creations of nature' and now has a permanent collection of some two million items that are quite eclectic.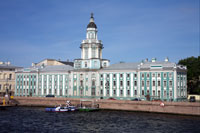 Kunstkammer
The word Kunstkammer is derived from the German words "Kunst" (art) and "Kammer" (room).
About the Building
The construction of the Kunstkammer building began in 1719 with designs by architect Georg Johann Mattarnovy. However, other renowned architects of the time also had their hand in the building of this beautiful structure on the banks of the Neva River, including Gerbel, Kiaveri, and Zemtsov. The latter was largely responsible for the interiors at Kunstkammer. Construction of the baroque building was completed in 1734.
In 1747, the building was largely destroyed by fire. It was quickly rebuilt according to plans by Sawa Tchevakinsky. However, the upper circle of the tower was disregarded in these plans and was not restored until after World War II.
The collection
The museum's collection began with Peter's personal artifacts, which were rather quirky, featuring items such as human and animal fetuses with anatomical deformities. It is said that Peter amassed this strange collection because he was trying to encourage the medical community to research deformities, and was also attempting to discourage the ridicule of people with deformities and the notion that they were "monsters". He allegedly lured people to the museum by promising free vodka to the visitors, who were amazed by the display of natural curiosities such as sheep with two heads and Siamese twins.
As the years progressed, Peter saw to it that the collection expanded, adding things such as minerals, gems, scientific instruments, and more. In the 1830s, the collection was dispersed to different museums. At that time, there were separate imperial museums for anthropology and ethnology, but the two were combined in the late nineteenth century.
Visiting the Kunstkammer
Today, in addition to the exhibit on anatomical rarities, the Kunstkammer includes galleries dedicated to the ethnography of the peoples of Africa, America, China, Japan, Indonesia, Australia, Oceania, and other countries. In these areas of the museum, visitors will find objects such as decorative arts, musical instruments, models of homes and religious dwellings, traditional clothing, weapons, and more.