The Bank Bridge is one of the most famous of the many magnificent bridges in St. Petersburg. The bridge is known for its decorative sculptures and beautiful cast iron elements.
St. Petersburg Bridges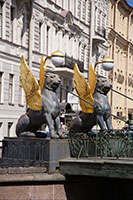 Bank Bridge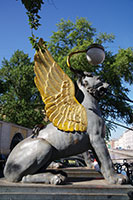 Griffin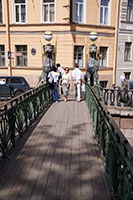 The narrow bridge
St. Petersburg is built around a network of more than forty rivers and canals, contributing to the unique romantic atmosphere of the city. As a result, numerous bridges were built to connect the islands with each other. Many of them are decorated with impressive statues or other ornaments. Especially during the first half of the nineteenth century a number of magnificent bridges were constructed such as the Lion's Bridge, Anichkov Bridge and Egyptian Bridge.
Griffins
The Bank Bridge, which crosses the Griboyedov Canal near the Cathedral of Our Lady of Kazan, is also one such bridge. The centerpiece of the Bank Bridge is its golden-winged griffins (lion-like creatures) that hold the chains of the bridge and provide support. The four creatures are representative of mythical beings who were said to be the guardians of treasure. The griffins were designed by Pavel Sokolov, who also designed the ornate lions for the Lions Bridge and the sphinxes for the Egyptian Bridge located elsewhere in the city.
The bridge is also decorated with intricate cast iron fencing, which complements similar architecture found nearby. The fretwork of the railings was reconstructed in 1952, paying close attention to original drawings and maintaining historical accuracy.
Skinny Bridge
Bank Bridge is also the narrowest in St. Petersburg. Built in 1825-26 according to the designs of the German engineer Wilhelm von Traitteur, the bridge measures only 1.85 meters (6 feet) wide. For that reason, it is obviously a pedestrian-only structure.
Trips to this bridge and many of St. Petersburg's other suspension bridges are included on many guided tours of the city.