Shortly after founding the City of St. Petersburg in 1703, Peter the Great lived in a very modest house while overseeing the construction of his fledgling city. The wooden building survived to this day thanks to a protective wall.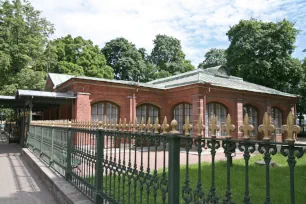 When Peter the Great set out to build his soon-to-be new capital, the site he had selected near the Gulf of Finland for the new city wasn't much more than a swamp and there was no accommodation or luxury whatsoever. But Peter decided his grand ambitions were more important than the comfort of a luxurious home.
A Log Cabin
Army carpenters built Peter's log cabin in just three days at the site of St. Petersburg's first port. From here, the tsar was able to closely follow the construction of the nearby Peter and Paul Fortress. But due to his involvement in the Northern War with Sweden, Peter did not spend much time in the cabin, and in 1712 he moved to the partially completed Summer Palace.
Encasing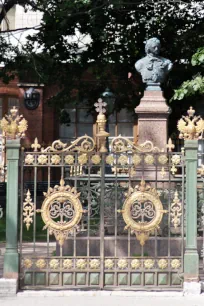 After Peter left, the cabin stood abandoned for years. In 1723 his wife Catherine decided to protect the cabin from decay, so a protective wall was built around the wooden structure. In 1844 the wall was replaced with the current brick and glass encasing, which gives the log cabin the appearance of a brick house.
Museum of the House of Peter I
Today the house – the oldest in the city – is home to a museum, the Muzey Domik Petra I (Museum of the House of Peter I). It gives an idea of life during the very first years of the city of St. Petersburg. The building, which is just 5.5 meters wide and 12 meters long (18×39 ft), has only two rooms – a study and dining room – and a hall which doubled as bedroom. Inside are some items from Peter the Great, such as his chair – alledgedly built by himself – and his compass. There is also a small boat that Peter made, who is sometimes referred to as the Tsar Carpenter.