St. Isaac's Square was laid out during the reign of Tsar Nicholas I. The equestrian monument at its center honors the Russian Tsar. Some of the magnificent buildings bordering the square include the monumental St. Isaac's Cathedral and the magnificent Mariinsky Palace.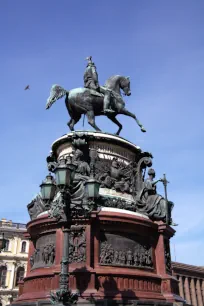 Nicholas I Monument
The equestrian monument to Nicholas I was created between 1856 and 1859 by Peter Clodt von Jurgensburg after a design by Montferrand, the architect of the St. Isaac's Cathedral. The monument shows a statue of Nicholas on a horse, which balances only on its hind legs. Despite this technical achievement, the statue lacks the flamboyance of the more famous statue of Peter the Great, who Nicholas tried to imitate.
The pedestal is decorated with allegorical figures sculpted by Nikolai Ramazanov and Robert Salemann. The figures, which resemble the spouse and daughters of Nicholas I, represent Faith, Justice, Wisdom and Might.
Surrounding Buildings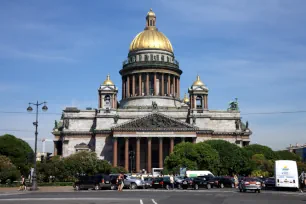 St. Isaac's Square is dominated by the monumental domed Cathedral of St. Isaac, which borders the square to the northwest. Even though the imposing building attracts all the attention, it isn't the only interesting structure around the square.
Opposite the cathedral is one of the most beautifully decorated palaces in St. Petersburg, the Mariinsky Palace. The palace is named after Maria, the oldest daughter of Nicholas I, for whom the Tsar commissioned the palace.
One of St. Petersburg's most prestigious hotels, the Astoria Hotel, borders the small park at the square. The hotel was built between 1910 and 1912 and was the most luxurious hotel of its time. It was designed in the Style Moderne, the local version of Art Nouveau. Opposite the hotel is the former German embassy building, designed by Peter Behrens and built in 1911-1913.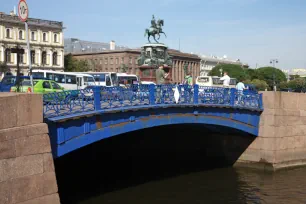 The statues that adorned the building's roof were torn down during the First World War. Adjacent is the Miatlev House, a neoclassicist building that was once home to the State Institute for Artistic Culture.
Blue Bridge
Extending St. Isaac's Square towards the Mariinsky Palace is Siny Most (Blue Bridge), named after the color of its underside and railings. With a width of about 100 meters (328 ft), it is the widest bridge in St. Petersburg. This area was the site of a market place for serfs until serfdom was abolished in 1861.