The interesting blue color of the Smolny Monastery makes it easily recognizable. At the center of the complex is the striking Cathedral of the Resurrection, a St. Petersburg landmark.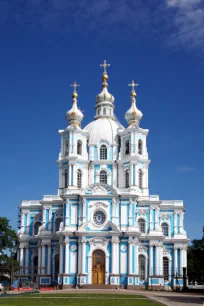 Located on the banks of the River Neva, the stunning blue-and-white Smolny Monastery was originally built to house Elizabeth, the daughter of Peter the Great, when she was pushed to become a nun after being denied succession to the throne.
Though political situations prompted a change in her plans and allowed her to ascend to power, construction of this Russian Orthodox convent continued for several years with the help of the royal family. The complex was built at the site of Elisabeth's Palace and named after the tar (smolny) used to seal the hulls of ships in the nearby docks.
The Design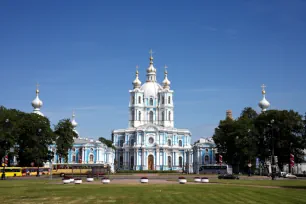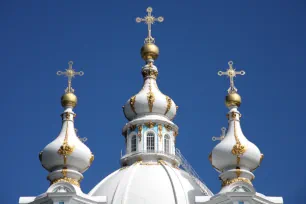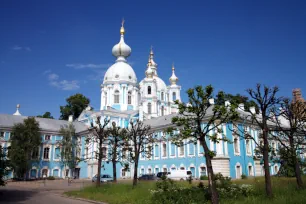 Smolny Monastery was designed by Italian architect Francesco Bartolomeo Rastrelli, who is also responsible for several other notable St. Petersburg landmarks, such as the Winter Palace. The Smolny Monastery is considered one of his greatest works. The complex is laid out like a cross, with the Cathedral in the center and four smaller churches in the corners. The cathedral is also surrounded by several low-rise residential buildings.
The Cathedral of the Resurrection, built in the Baroque style, is the centerpiece of the complex and one of the most recognizable buildings in the city, thanks – in part – to its blue color. It was built between 1748 and 1764 but was not completed at that time, partially due to the death of Elizabeth in 1762.
When Catherine II began her rule, she expressed her dislike of the convent's Baroque style and allowed funding to run out. Hence, the convent was never truly finished (and consecrated) until about 1835, when architect Vasily Stasov developed new plans that provided for a more Neoclassical interior in line with the architectural tastes of the time period. The central clock tower was significantly scaled down to its current height of ninety-four meters (308 ft.).
History
Before the cathedral was complete, much of the complex served as the Institute for Education, a school for aristocratic girls, later moved to the nearby Smolny Institute building. Lenin lived here in early 1918 before the complex became the city's headquarters of the communist party.
During the Soviet regime, the convent and the church fell into disrepair. It was left to rot for more than six decades, with little regard for its architectural or historical significance.
In the early 1980s, attention was given to restoring this complex of buildings, and many of the structures now house government offices and serve as classrooms for the Saint Petersburg State University. The cathedral now often functions as a concert hall.