Sevilla was long encircled by a defensive wall built to protect the city from possible invasions. A four hundred meter long section of these Murallas in the northeast of the city is still mostly intact.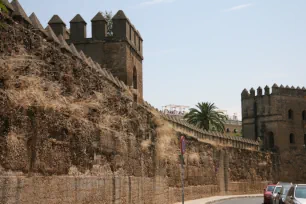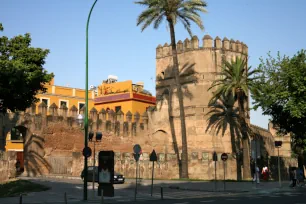 The wall stretches from the Puerta de Córdoba to the Puerta de la Macarena, near the Macarena Basilica.
History
The Romans were the first to build city walls around Seville, as early as in the first century BC. At the end of the Roman Empire, the wall was largely destroyed by the Vandals, only to be rebuilt later by the Visigoths.
The walls that can be seen today date back to the time Andalusia was occupied by the Moors; construction of the wall started in the eleventh century and was completed in the early thirteenth century. The six kilometer long wall with 166 towers and nine gates encircled the whole city. At the time, Seville was considered Spain's best fortified city.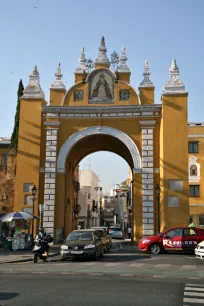 The wall
The surviving section of the wall starts at the Puerta de Córdoba, a small crenelated tower with horseshoe-shaped doors located near the intersection of the Calle san Julián and Ronda de Capuchinos. Passing eight more towers, the wall runs northwest towards the Puerta de la Macarena (Macarena Gate) near the Macarena Basilica. The Macarena Gate's appearance dates from the eighteenth century, when it was mostly rebuilt.
Towers
The tallest tower on the current stretch of the Murallas is known as Torre Blanca (White Tower). Several towers that were originally part of the defensive wall around Sevilla survived in other parts of the city, including the Silver Tower and the Golden Tower, Seville's most famous tower.