The Palacio de San Telmo, constructed in the seventeenth century as a school for navigators, is characterized by its richly ornamented Baroque portal. After having served a number of different purposes, the building is now the official residence of the president of Andalusia.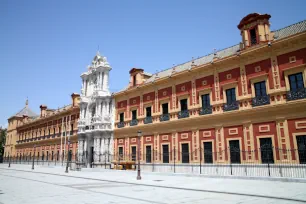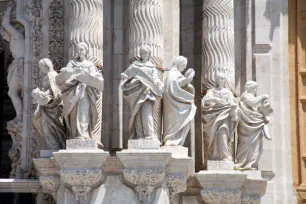 The Palacio de San Telmo was built in 1682 as the seminary college of mareantes (navigators school). It was designed in an exuberant Spanish Baroque style by the celebrated local architect Leonardo de Figueroa with help from his son Antonio Matias. The palace is named after St. Telmo, the patron saint of sailors.
History
The school closed in 1847 and two years later the building was sold to Antoine d'Orleans, the Duke of Montpensier, who made it his palace. In 1893 princess Maria Luisa d'Orleans donated the vast gardens of the palace to the city, who used the terrain to host the 1929 exposition.
Today, the area makes up a large part of the Maria Luisa Park. The princess also gave up the palace, which she donated to the church to house a seminary. In 1989 the building once again changed hands, this time to the Andalusian autonomous government, and today the Palace of San Telmo is the official residence of the president of the autonomous community of Andalusia.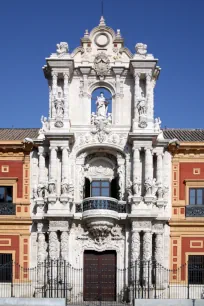 The Portal
The most conspicuous part of the palace is the lavishly decorated portal. Completed in 1734 by Antonio Matias de Figueroa, the portal is defined by its large sculpted columns. Statues on either side of the balcony represent arts and sciences. The top level shows a large statue of Saint Telmo framed by an open arch. He is accompanied on his left by Saint Hermenegild and Saint Ferdinand to his right. A pediment with volutes crowns the portal.
Statues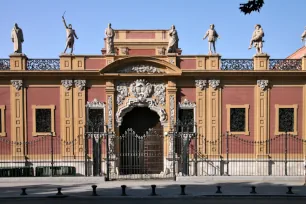 The facade along the Avenida de Palos de la Frontera is decorated with twelve statues of important figures in the history of Seville such as Murillo and Velázquez – famous local painters – and Rodrigo Ponce de León, a military leader during the reconquest of Granada in 1492. The life-size statues were sculpted by Antonio Susillo and installed in 1895.