The enormous complex currently home to the University of Seville was long the only tobacco factory in Europe. The richly decorated structure was surrounded by a moat and guarded by sentries to prevent theft of tobacco.
History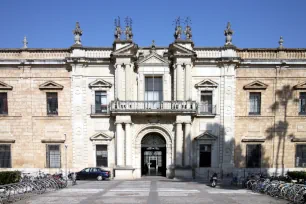 At the start of the eighteenth century, Fernando VI, king of Spain, commissioned the construction of a tobacco factory in Seville.
The Spanish had introduced tobacco in Europe in the sixteenth century and the demand for the product started to grow quickly The massive factory, constructed between 1728 and 1771 was the second-largest building in the country, only eclipsed in size by El Escorial in Madrid. Spain was the only country in Europe producing tobacco, and 75% of all cigars that were sold on the continent were manufactured in this building.
In the 1950s the factory moved to more modern premises across the river and the building was converted into a school. It is now the seat of the Hispalense University.
The Building
The enormous structure was built like a fortified palace. It was surrounded by a moat and only accessible via a drawbridge. Sentries protected the entrances, mainly to prevent workers from stealing tobacco. The factory even had its own prison where smugglers were locked up.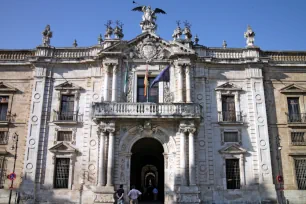 The building, which measures 185 by 174 meters (607 x 571 ft) is still bordered on three sides by dry moats. Inside are a number of small, but often beautifully decorated patios. Four portals gave access to the building, decorated with columns, balustrades and broken pediments. The principal portal at Calle San Fernando, where the residential quarters were located, is the most ornate. The pediment is embellished with a coat of arms and topped by an angel blowing a trumpet. Below are reliefs depicting boats and the figures of Columbus and Cortés, a reference to the discovery of the tobacco plant in the New World.
Carmen
The story of the famous opera Carmen by Georges Bizet was set in the tobacco factory of Seville, where the main character, Carmen – a gypsy woman who worked in the factory – fell in love with one of the soldiers guarding the building.