There are plenty of impressive Baroque churches in Prague, but the St. Nicholas church at the Old Town Square is one of the most beautiful thanks to the colorful frescoes, intricate ironwork and stucco that decorate the interior.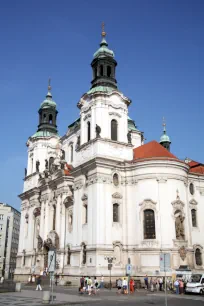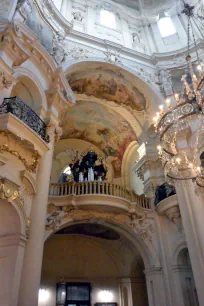 History
A Romanesque church was built at this site around the turn of the thirteenth century. The church served as the parish church of Prague's Old Town until the completion of the nearby Týn church.
The defeat of the Bohemian army at the Battle of White Mountain in 1620 ended the religious freedom in the city, and the St. Nicholas church was handed over to the Benedictine order.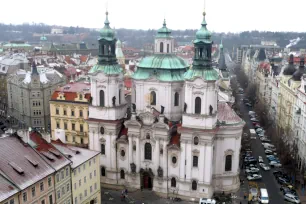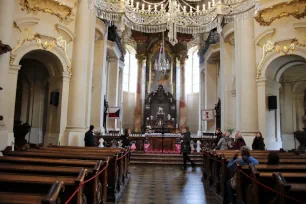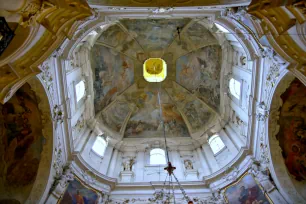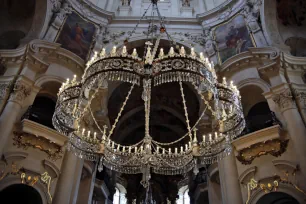 In the eighteenth century, the Benedictines commissioned architect Kilian Ignaz Dientzenhofer with the design of a new church. Dientzenhofer, an accomplished Baroque architect, started with the construction in 1732 and the new St. Nicholas church was consecrated five years later, in 1737.
From 1870 to 1914, the St. Nicholas Church was used by the Russian orthodox congregation. Later it was in use as a warehouse and it even housed a garrison. Today, the church is owned and managed by the Hussite church.
Exterior
At the time of construction, the St. Nicholas church stood hidden behind Krenn House. It was only after the Krenn House was demolished in 1902 that the church's Baroque front façade became visible from the Old Town Square.
The church's white facade is decorated with plenty of statues, the work of Antonín Braun, brother of the more famous Matthias Braun. The church has two steeples and a large octagonal dome.
Interior
The marvelous interior of the St. Nicholas church was inspired by the chapel of St. Louis-des-invalides in Paris. In 1781, after Emperor Joseph II ordered the closure of all monasteries without a social function, many ornaments in the church were removed. The interior is nonetheless magnificent, with delicate stucco decoration created by Bernardo Spinetti and dazzling ceiling frescoes, painted by the Bavarian artist Cosmas Damian Asam. The frescoes depict scenes in the lives of the saints Nicholas and Benedict.
Lesser Town St. Nicholas Church
The St. Nicholas Church at the Old Town Square isn't the only church with this name in Prague. There is another, equally magnificent Baroque Saint Nicholas Church at Lesser Town Square, across the Vltava river. This church was built by the same architect, following a design created by his father, Christoph Dientzenhofer.