The historical Týn Church is a prominent building at the Old Town Square. Built in the fourteenth century, its many spires still tower over the city.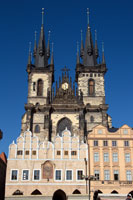 Týn church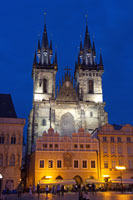 The church at night
Construction of the Romanesque/early Gothic church started in 1365 when German merchants provided funds for a basilica to serve as their main church. The grand portal was built in 1390. The West front wasn't erected until after the Hussite wars in 1485; the south tower was finished in 1511.
Reformation
The Týn church has always played a major role in the history of the reformation in Bohemia, and it was the most important church of the Hussites in the sixteenth century. Inside, you will find many fine sculptures from the pre-Hussite period.
Týn School
The church is connected with the Old Town square by the arcade of the Týn School. The most remarkable aspect of this building, which was used as a school from the fourteenth to the nineteenth centuries, is its Gothic vaulting.