Tynská, a small street just north of the Týn Church, leads you through an archway from the Old Town Square to Týnský dvůr, a picturesque courtyard surrounded by beautiful buildings from the Renaissance and Baroque era.
Ungelt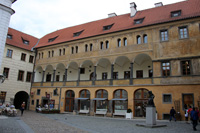 Týn Courtyard
In the Middle Ages, this courtyard was the site where foreign merchants stored their wares and declared their goods at the custom house. That's why it was originally known as 'Ungelt', which in Middle High German means 'additional expenditure of money'. In return for their contribution, the merchants benefited from significant protection. The site was fortified and even surrounded by a moat.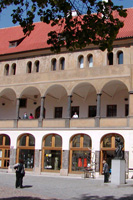 Granovksý House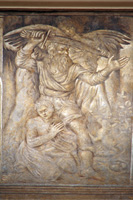 Sgraffito
Night and Day
Ungelt was more than just warehouses: as early as in the 12th century there was a hospital, a church and even an apothecary here. Entertainment and lodging for the merchants was also provided. By the end of the Middle Ages, residents started building houses around Ungelt. Ungelt continued to serve as a marketplace and trading place until the customs house closed its doors in 1774.
The courtyard today
Today, the courtyard is officially known as Týn. It is popular with tourists, not just for the cafés, pubs and restaurants, but most of all for the beautiful historical buildings that surround the courtyard. There are eighteen in total.
The most attractive is undoubtedly the Granovský house, a Renaissance-style building from 1560 with a loggia on the first floor. The facade is decorated with beautiful sgraffito that depict scenes from the bible. Another beautiful building is Dům U Řečických, a Baroque building just opposite the Granovksý house from around 1705.
In front of the Granovský house stands a statue titled «Den a Noc» (Day and Night). It is a copy of an original bronze work created in 1911 by the Czech sculptor Jan Josef Štursa, a pioneer of modern sculpture in the Czech Republic.
Getting there
There are two entrances to Týn Courtyard. The first is at the back of the Týn Church, through an archway at the end of Týnská street, which you can reach from Old Town Square. The other entrance is through another archway, at Malá Štupartská, near the Church of St. James the Greater.