The eighteenth-century St. Nicholas Church at Lesser Town Square is Prague's most important high Baroque church. It is ornately decorated with many frescoes and statues.
The Dientzenhofers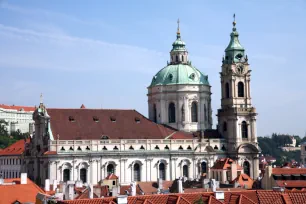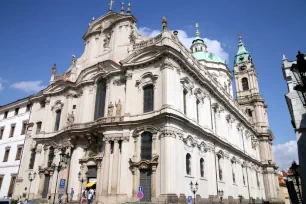 The church was designed by Christoph Dientzenhofer, a master builder from Bavaria. He worked on the church from 1704 until 1711. By that time, the facades and the nave had been completed.
Christoph's son, Kilian Ignaz Dientzenhofer, who had attended the Jesuit Clementinum in Prague, succeeded his father as master builder. After building the St. Nicholas Church at the Old Town Square, he continued construction on the St. Nicholas Church in Lesser Town and completed the choir and dome between 1737 and 1752.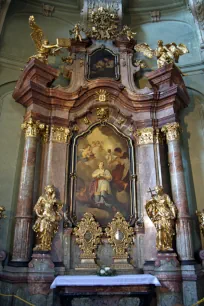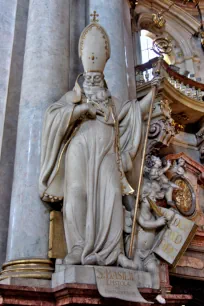 Neither father nor son would see the building completed, as they both died before the church was finished. Italian master builder Anselmo Lurago, a student of Kilian Ignaz Dientzenhofer, succeeded the Dientzenhofers as the lead architect, and he supervised the completion of the church. Lurago is also responsible for the 79-meter-tall clock tower, built between 1751 and 1755.
Interior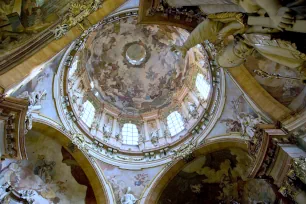 The interior of the St. Nicholas Church is ornate, with many frescoes and sculptures created by the best artists of the time.
The 70-meter-high (230 ft.) dome is decorated with the fresco 'The Holy Trinity', a work from Franz Palko. The four colossal statues below the dome were sculpted by Ignác Franz Platzer, better known for his statues of fighting giants at the entrance of the Prague Castle.
The church's Baroque organ, built by Tomáš Schwartz and installed here in 1746, was played by Mozart in 1787. Above the organ is a fresco of Saint Cecilia, patroness of music.
The eye-catching pulpit at the center of the church is sumptuously decorated with gilded cherubs. It was built in 1765 by Richard and Peter Prachner.