The Old Town Bridge Tower was built in the fourteenth century in Gothic style. The finely ornamented tower sits at the end of the Charles Bridge, near Prague's Old Town district.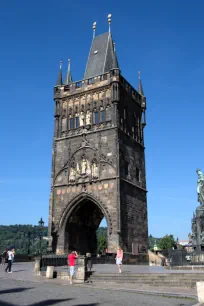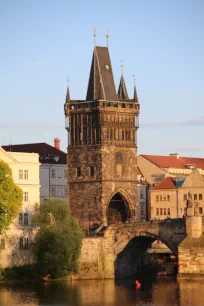 The tower was designed by the Schwabian architect Peter Parler – who also built the famous Charles Bridge and the magnificent St. Vitus Cathedral – as part of the fortification system around the Old Town.
The Late Gothic Tower, said to be the most beautiful bridge tower in Europe, was built between 1370 and 1391 at the Old Town side of the Charles Bridge and served as a gateway to Prague's city center.
Statues and Ornamentation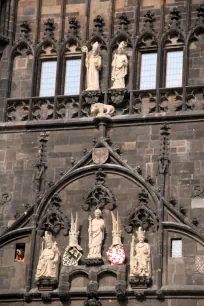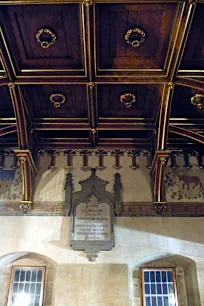 The 64-meter-tall (210 ft.) tower originally featured sculpted decorations on both the east and west facades, but the sculptures on the western facade were severely damaged during a siege by Swedish troops in 1648 and removed afterward. Fortunately, the decorations on the eastern facade have been preserved.
Above the arch are the coats of arms of all the lands that were part of the Holy Roman Empire during the reign of Charles IV. On either side of the arch is a relief of a kingfisher, the symbol of King Wenceslas IV.
The three statues above the coats of arms depict Saint Vitus – the patron saint of Bohemia – in the middle, with King Charles IV (who ordered the construction of the tower) to his left and King Wenceslas IV (during whose reign the tower was completed) to his right.
Near the top of the tower are two more statues of saints: Saint Sigismund (with a crown) and Saint Adalbert (with a miter).
Lookout
A long stairway leads to an observation room from where you have great views of Old Town and the Charles Bridge. And while you're there, don't forget to look at the ceiling, which has a beautiful ribbed vaulting.