The Golden Lane – a narrow street with small, colorful houses – is one of the most popular attractions in Prague's castle complex. The picturesque street is named for the goldsmiths who lived here during the seventeenth century.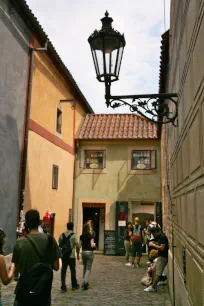 The Golden Lane (Zlatá ulička in Czech) is situated at the eastern end of the Prague Castle, near the outer wall. The small houses were originally constructed in the sixteenth century for the castle guards of King Rudolph II. At the time, the street was known as archery lane. It was later renamed 'golden lane' for the goldsmiths who moved into the houses in the seventeenth century.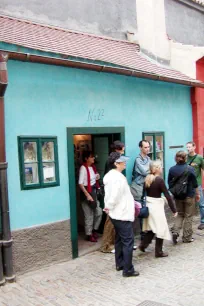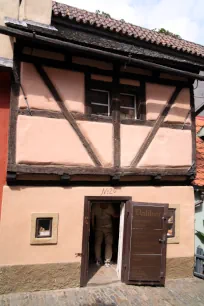 Legend wants one to believe alchemists attempted to turn metal into gold here, but in fact the alchemists lived elsewhere in the castle. It was the goldsmiths who gave the street its captivating name.
Restoration
The street was originally lined with twenty-four wooden houses, but one side of the street was declared unfit for habitation and demolished in the nineteenth century. Poor people and criminals now lived in the remaining houses, but they were evicted after the Second World War when the street was nationalized. The houses were restored and repainted with lively pastel colors between 1952 and 1955.
Kafka
The street is now largely occupied by souvenir and bookshops. Speaking of books, several well known writers used to live in the small houses. The most famous of them is Franz Kafka, who stayed here at his sister's house between 1916 and 1917. A small plaque at no. 22 testifies to this fact. Another famous writer who lived here was Nobel Prize winner Jaroslav Seifert, who lived in the 1930s in a now demolished building.
Entry Tickets
Unfortunately the Golden Lane cannot be visited for free, you can either buy an entry ticket for the street or buy a combined ticket for the whole Prague Castle complex.