To the west of the Sacré-Coeur is the Montmartre Cemetery, the last resting place for countless notable artists. The intimate cemetery is crammed with statuary and impressive tombs.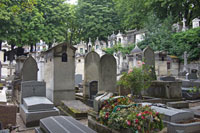 Cimetière de Montmartre
The cemetery covers an area of about eleven hectares and has more than 22,000 concessions. The cemetery is more intimate than the larger Père-Lachaise and the more formal Montparnasse Cemetery. Many of the graves and tombs are elaborately decorated with sculptures and reliefs. Others look like small chapels.
History
In the eighteenth century this area was used for mass graves for the impoverished, and later it became the site of a makeshift cemetery. The site gave access to a plaster quarry, hence its low location.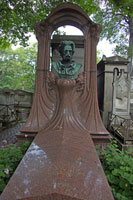 Émile Zola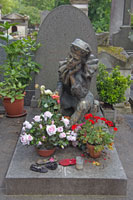 Vaslav Nijinsky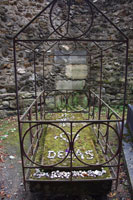 Edgar Degas
In 1798 the city of Paris acquired the site so that it could move the graves of closed-down cemeteries in the center of the city here. In 1825 the cemetery officially opened as the North Cemetery, but Parisians soon started to call it the Cimetière de Montmartre after the Montmartre neighborhood it is situated in.
The Cemetery for the Artistically Inclined
Over the years the cemetery has become a favorite burial place for literary figures, painters, singers and composers.
One of the most famous graves is that of the French writer Émile Zola, situated near the roundabout close to the entrance. His grave is empty since his body was transferred to the Pantheon in 1908. Jacques Offenbach, a French composer best known for his fiery Can-Can tune, is also buried here, in division no 9.
There are also many foreigners buried at Montparnasse, including the celebrated Russian dancer Vaslav Nijinsky (no. 22), the German poet Heinrich Heine (no. 27) and the inventor of the saxophone: the Belgian Adolphe Sax (no.5).
The grave of local painter Edgar Degas can be found in division no. 4. Right near him lies Jacques Hittorff, an architect best known for his redesign of the Place de la Concorde and his plans for the Gare du Nord. The French film director François Truffaut (no. 21) and composer Hector Berlioz (no. 20) are also buried here.
Beside artists, there are also a number of famous scientists buried at this cemetery, most notably Léon Foucault (no. 7), he of the Foucault pendulum, and the physicist André-Marie Ampère (no. 30), after whom the unit of measurement of electric current is named.
Near the entrance, you'll find a placard with a map of the cemetery that shows the location of some of the most popular graves.