The Cimetière du Montparnasse is one of the most interesting cemeteries in Paris. It is the last resting place of many famous Parisian figures, and plenty of tombs are decorated with beautiful sculptures.
History
The history of the Montparnasse Cemetery goes back to the seventeenth century, when the site was owned by an Italian religious order known as the Fatebenefratelli (Brothers of Charity), who created a private cemetery here.
One survivor of this expansion is the Tour du Moulin de la Charité (Tower of the mill of Charity), the former windmill of the religious order's monastery. The tower is now a protected monument and stands in the south-west corner of the cemetery.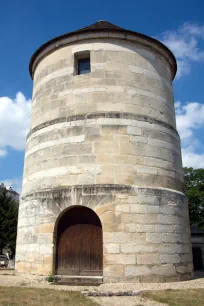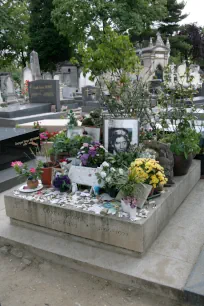 In the early nineteenth century, when the cemeteries in the center of Paris started to become overcrowded, the local government acquired the domain and turned it into a municipal cemetery. At the same time, the cemetery was significantly expanded.
The Cemetery
The Montparnasse Cemetery has a geometric layout with wide tree-lined lanes dividing the different sections. A street, the rue Emile Richard, divides the cemetery into two sections: a small, almost triangular one known as the "Petit Cimetière" on the east side and a large rectangular section, the "Grand Cimetière", on the west side.
While not as famous as the Père-Lachaise Cemetery and not as romantic as the Montmartre Cemetery, this is certainly one of the most interesting cemeteries in Paris, and plenty of famous Parisians are buried here. Near the main entrance is a placard that indicates the location of the most famous graves.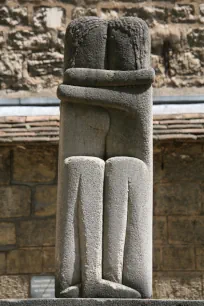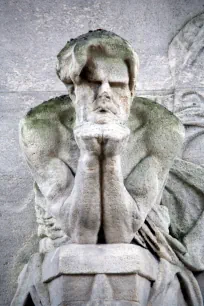 Some of the notable figures buried here include the philosophers couple Jean-Paul Sartre and Simone de Beauvoir, singer Serge Gainsbourg, playwright Samuel Beckett, industrialist André Citroën, composer Camille Saint-Saëns, poet Charles Baudelaire, Hollywood actress Jean Seberg and the sculptor who was responsible for the Statue of Liberty: Frédéric Auguste Bartholdi.
Sepulchral Monuments
The Montparnasse Cemetery has a great number of interesting memorial sculptures. Several modern sculptures of Constantin Brâncuși, who is also buried at this cemetery, can be found here, including 'the Kiss', a modern response to Auguste Rodin's famous work.
Another interesting monument is the cenotaph of Charles Baudelaire, with a bust of the writer in contemplation. The writer himself is buried in the tomb of his stepfamily.
The most monumental sepulchral tomb is probably that of the French industrial Charles Pigeon, whose family tomb shows himself and his wife lying in a large bed of stone and marble. There are many more interesting tombs, including those of Henri Laurens, decorated with a cubist figure, and Bartholdi, crowned with a winged female figure reaching for the sky.