This monumental building – known as the Palais Bourbon – was built in the eighteenth century for the Duchess of Bourbon. Today, the palace is home to the Assemblée Nationale, the French parliament's lower house.
The Bourbons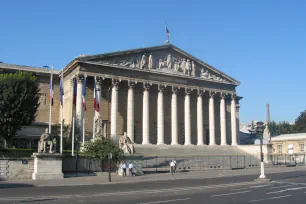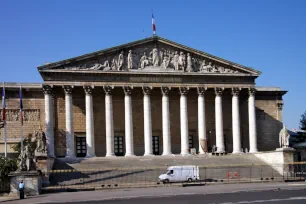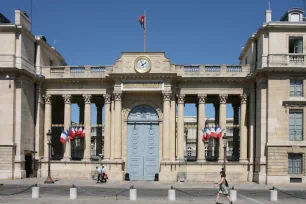 Ironically, the name of this republican symbol refers to the Royal Bourbon family, who were ousted by the republicans during the French Revolution. The Palais Bourbon was built by the Duchess of Bourbon, daughter of King Louis XIV and Madame de Montespan.
History
Construction of the main building started in 1722 under the supervision of the Italian architect Giardini after plans by Giardini and Hardouin Mansart. After his death in 1924 Giardini was replaced by Jacques Gabriel, who finished the palace in 1728.
The Palais Bourbon was enlarged in 1765 and in 1768 the adjoining Hôtel de Lassay was annexed to the palace. Like many other palaces, the Palais Bourbon was confiscated during the French Revolution and declared national property. During the revolution, from 1795 on, the building was used by the Council of the Five Hundred (At the time the larger chamber of the French Legislature).
Between 1804 and 1807 the colonnaded front was added on Napoleon's request, who wanted the building to mirror the Madeleine temple at the other side of the Seine river.
Assemblée Nationale
The Palais Bourbon has served as the seat of the Assemblée Nationale (National Assembly) since 1830. The building can be visited if you make reservations in advance.